Did Marvel Comics invent the Homosexual Gay Agenda?
Yes, they did! Long before the 1970's, the Stoned Wall (instead of the stoning; Leviticus 20:2) or The Ally McBeal Show, the Marvel company provided the yesteryear's children with "super-heroes", apparently manly, violent, ruthless men as men should be. This was just the decoration. Behind this veil of ignorance, the secret agenda of normalizing sodomistic sin made its appearance. Clever Creation Scientists have now uncovered previously unassessed pictorial evidence from the 1950's and 1960's. The images below depict the True Story of Marvel Comics. It is a story of homosexual relationships penetrating the franchise and homosexual male copulatory organs penetrating the rectums of anyone, anywhere.
Here we can see the false god Thor engaging in seduction
Mark 9:42
And whosoever shall offend one of these little ones that believe in me, it is better for him that a millstone were hanged about his neck, and he were cast into the sea.
Can you see a millstone? Or a sea? You cannot! You can only see two young boys eager to start a career of unrepenting sodomy. Next: Superman tries to Repent® (Acts 3:19). Seems reasonable.
After oral gay sex, Superman feels remorse. This might become Biblical, after all! But it doesn't! Marvel was too cunning for that. Instead, Superman spreads the gay contagion further.
Now Batman is infected. This was a pivotal turning point, as Marvel started to depict an openly gay cross-generational relationship (Leviticus 18:22).
Now, we know that the promoters of the gay agenda are trying to explain it away by gay monogamy, by "being faithful to the civil partners". Marvel comics showed us that this is not the case. A superhero will seduce any young man whenever the opportunity arises.
2 Timothy 3:13
But evil men and seducers shall wax worse and worse, deceiving, and being deceived.
In a very short period of time, all superheroes started to show gay tendencies. I don't have the faintest idea who these two supermales are, but you can all see that they are sodomites. At this point, the Marvelites no longer even tried to avoid profanities.
A teenage victim of radiologic activity, the Spiders' Man, was also seduced.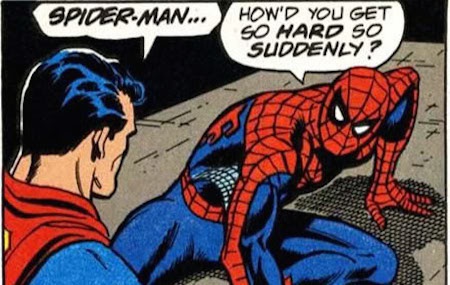 Next, women started to act uppity. This was probably during the 1960's. Men were all fighting in Vietnam for Jesus. Meanwhile, the females found comfort in each other and the few remaining Christian™ Ladies started to suffer from persecution. That was obviously credit for them (Matthew 5:10).
Above is the definite proof: Being gay became a fad. The poor woman realized that it was the only way to gain popularity. We had reached the point of no return. It was a vicious circle leading to the inevitable release of gay sexual organism. Superman started to lead the troops. Even unsuspecting moral Americans became targets of his new "gay superpower". We can only presume that at the same time chemtrails and some kind of ultra-violent light rays started to convert people into sodomy. The proof can be seen below:
What did these people miss? They missed a pivotal verse!
1 Corinthians 6:9
Know ye not that the unrighteous shall not inherit the kingdom of God? Be not deceived: neither fornicators, nor idolaters, nor adulterers, nor effeminate, nor abusers of themselves with mankind,
Present day. Flocks of sodomite people are shasheying around, chittering happily, concentrating on their tasks in workplaces, being seen in movies and false Churches. They're raising children who do well academically and pay their taxes. These people rarely engage in war or gun violence. Jesus must be weeping in a rage of frustration over this comfortable but disastrous lifestyle. These people actually show secular LOVE towards their partners and offspring. That is preposterous.
Luke 14:26
If any man come to me, and hate not his father, and mother, and wife, and children, and brethren, and sisters, yea, and his own life also, he cannot be my disciple.
The process has not stopped. Marvel continues to promote sodomy. The most recent case is the "Ice-Man". Apparently a figure who exists as two versions of himself, young and younger, and both strive to sodomize all passers-by.
My life is miserable as it should be. I'll go to Heaven. These people are trying to build a comfortable, equal opportunity, tolerant "heaven" on Earth. That will fail.
Isaiah 65:17
For, behold, I create new heavens and a new earth: and the former shall not be remembered, nor come into mind.
Ha-ha!
Yours in Christ,
Elmer

Replies:
Thinks Design (16-04-2018 06:57 AM)
: Deep down I know he never cared about those ungodly comics.I'll never be alone, because I will always have Jesus Christ beside me. End of discussion. If you dislike them so much (I think they are harmless
...
TheOutsideWorld (16-04-2018 04:53 PM)
: I would just like to tell you that batman and superman are not marvel comics, they are DC comics, their competitor. Also, connection does not equal causation. The Marvel comics has started turning certain
...
Mary Etheldreda (16-04-2018 05:01 PM)
: because America's view has changed to be farther left on the political scale. Exactly! It is the established conclusion this was accomplished by way of Marvel Comics and its invention of the Homosexual
...
BrotherLarry (16-04-2018 06:04 PM)
: Just a quick hint from someone with a vast amount of experience with homersexualisticismness; vast despite being such a young, well built handsome fellow; vast despite years of solid study of the Bible,
...
Dr Laurence Niles (16-04-2018 06:58 PM)
: I would just like to tell you that batman and superman are not marvel comics, they are DC comics, their competitor. Also, connection does not equal causation. The Marvel comics has started turning certain
...
Pamela Smith (16-04-2018 07:36 PM)
: If you dislike them so much (I think they are harmless fun) why did you let him have them. The thing sbout bring a good parent is consistency. ThinksDesign I had no idea they supported the gay
...
Show all 20 replies.