The MSM has been fawning over Bronx Bolshevik Alexandria Ocasio-Cortez's Democratic Primary win over Bronx/Queens 10-term incumbent D.C. swamp creature and Democrat Joe Crowley on Tuesday, June 26th. Hailed by the DNC as the "new face" of socialism, many are expecting her to win the election for the seat in the politburo.
In response to her televised debate you would think her supporters would like to know more about her plans for wealth redistribution and trade policies with the commie Chinese, but instead they wanted to know what brand of "deep-red" lipstick she wore.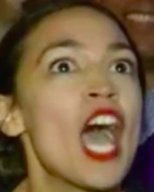 You would expect Cortez's reply to denounce the $170 billion capitalist cosmetics industry and the exploitation of women and workers - but instead Cortez supplied her fans with the name of her favorite brand of lipstick.
Quote:
Alexandria Ocasio-Cortez
@Ocasio2018

I have been getting many inquiries about my debate lip color in the last two days.

I GOT YOU.

It's Stila "Stay All Day" Liquid in Beso.
11:45 AM - Jun 17, 2018
Look for Alexandria Ocasio-Cortez to introduce legislation to seize the assets of Stila and nationalize them in the name of the Dictatorship of the Proletariat, and supply all citizens with a free lifetime supply of Stila "Stay All Day" Liquid in Beso. And who knows, maybe you will begin to see those Che Guevara posters with "Che" wearing Stila "Stay All Day" Liquid in Beso - and where is Marx, Lenin, and Trotsky when you need them? We're now beginning to see what happens when you put women in charge.
We can't leave this subject without noting what Jesus has to say about "painted" women as sluts and harlots - and we should all pray that Comrade Alexandria Ocasio-Cortez finds Jesus before it's too late and suffers the fate of Jezebel.
Quote:
And furthermore, that ye have sent for men to come from far, unto whom a messenger was sent; and, lo, they came: for whom thou didst wash thyself, paintedst thy eyes, and deckedst thyself with ornaments,

- Ezekiel 23:40

And when Jehu was come to Jezreel, Jezebel heard of it; and she painted her face, and tired her head, and looked out at a window.

- 2 Kings 9:30