It has long been a source of worry that, if God created everything, he created not only leprosy, jumping spiders, and behemoths, but he also created the Beasts of The Book of The Revelations of John The Divine of Patmos.
Not only did He do this, but there are also clear descriptions of Cherubim in Ezekiel (Eze:1:5 onwards and Ch.10:1 onwards) who sort of float and carry God's Throne around. They have four wings, cloven hooves, four faces,that of a man, a lion, a cherub, and an eagle, and you, like so many theologians before you, will immediately notice that Ezekiel's beasts are heading forward whichever way they go.
Isaiah's seraphim in Isaiah's vision (Isaiah6:2) the Seraphims are distinguished
Isa:6:2: Above it stood the seraphims: each one had six wings; with twain he covered his face, and withtwain he covered his feet, and with twain he did fly.
They have an extra set of wings so as to directionalize and fly. (As an interesting aside, in France in 1348, Jacques De Temoins was burned at the stake for saying "Why did they have wings to cover their feet, when they could have had socks?")

In Daniel we find four creatures,
Daniel7:7-13
, are of concern, as they do not seem to be particularly "holy"
1. The first was like a lion, and had eagle's wings;
2. the second, like to a bear, and it raised upitself on one side, and it had three ribs in the mouth of it between the teeth of it,
3. a leopard, which had upon the back of it four wings of a fowl; the beast had also four heads and finally
4. a fourth beast, dreadful and terrible, and strong exceedingly; and it had great iron teeth.
The beasts of Revelations Rev:
4:6-8
And the first beast was like a lion, and the second beast like a calf, and the third beast had a face as a man, and the fourth beast was like a flying eagle.
Re:4:8: And the four beasts had each of them six wings about him; and they were full of eyes within.
For your convenience, I produce a table: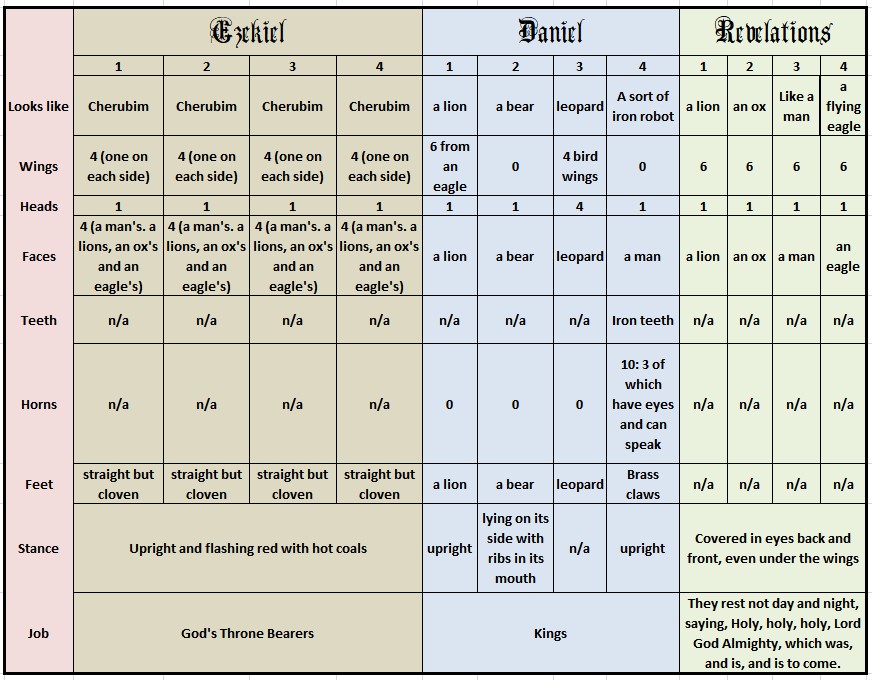 Now you will see the problem that has beset theology:
Are they all the same 4 Beasts or are they different Beasts?
Added to these is "the beast out of the Sea": Re:13:1: And I stood upon the sand of the sea, and saw a beast rise up out of the sea, having seven heads and ten horns, and upon his horns ten crowns, and upon his heads the name of blasphemy.
Re:13:2: And the beast which I saw was like unto a leopard,and his feet were as the feet of a bear, and his mouth as the mouth of a lion:and the dragon gave him his power, and his seat, and great authority.
You will see how this Beast resembles the leopard with the ten horns (three of which have eyes and can speak.)
After a lot of prayer, it has been determined that all are the same things. There are 4 Beasts and four Beasts only. It is a question of who reported what.
If you saw one of those Beasts, it would be only natural to panic a little. The Prophets of Old were no different from you or I (We can all perform miracles, have visions, and raise the Dead, etc - it is a matter of Faith) and therefore, seeing a leopard with ten horns and loads of eyes or whatever, your recall is only going to be so detailed.
Examine the table again, and add the descriptions together, and you will find that they are all the same!
The only real difference is the job that they were doing. And this is no surprise or mystery - why shouldn't the Four Beasts of Revelations multitask - Dear Lord, if women can multitask, it is going to be a breeze for Beasts, isn't it?
Thank you for reading this. I am sure that it will help on your path to Salvation.