It is well-known that the
main goal of Jesus
is to protect us from His own
Wrath
. God
h
ates humanity's actions ever since the
Fall
(Genesis 3:6) that He foresaw and prepared the
Waste Disposal Site of Hell
to those who fail to
Fear and Obey Him
(Ecclesiastes 12:13). This strategy has paid off well and many dozens of people are one day going to join
Jesus
in
Heaven
(1 Thessalonians 4:15).
The procedure is as follows:
God offers us protections against our Faith™ and Obedience.
If we accept and follow Him, He'll Save® us from His own Punishment.
If we don't accept His offer by our Free Will, He'll kick our assess. Sorry for the strong language but it is necessary to get the Unsaved attention.
Matthew 8:25
And his disciples came to him, and awoke him, saying, Lord, save us: we perish.
The
Mob
is very similar. Many shopkeepers in Godless Italy but also in Godly U.S. of A. are forced to yield to the Mob. Basically, the Mob will protect the businesses from their
wrath
. This strategy has paid of even better than
Jesus's
, as hundreds of thousands of businesses worldwide pay
protection mone
y to prevent the Mob from punishing them. It is questionable if Free Will is applied. As we can see, the actions of
Jesus and Mob are at first glance similar
. This can be best explained in pictorial form as follows: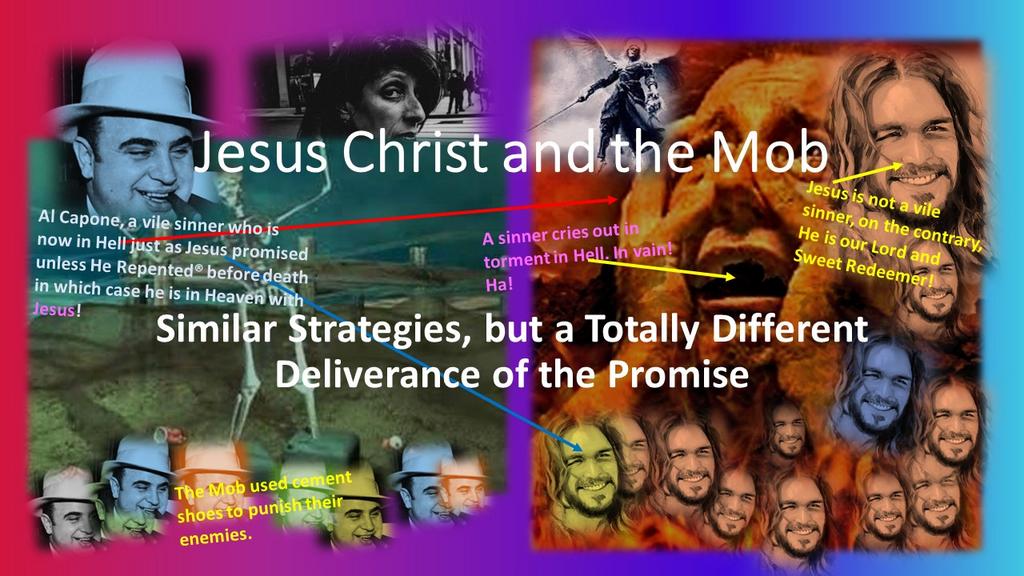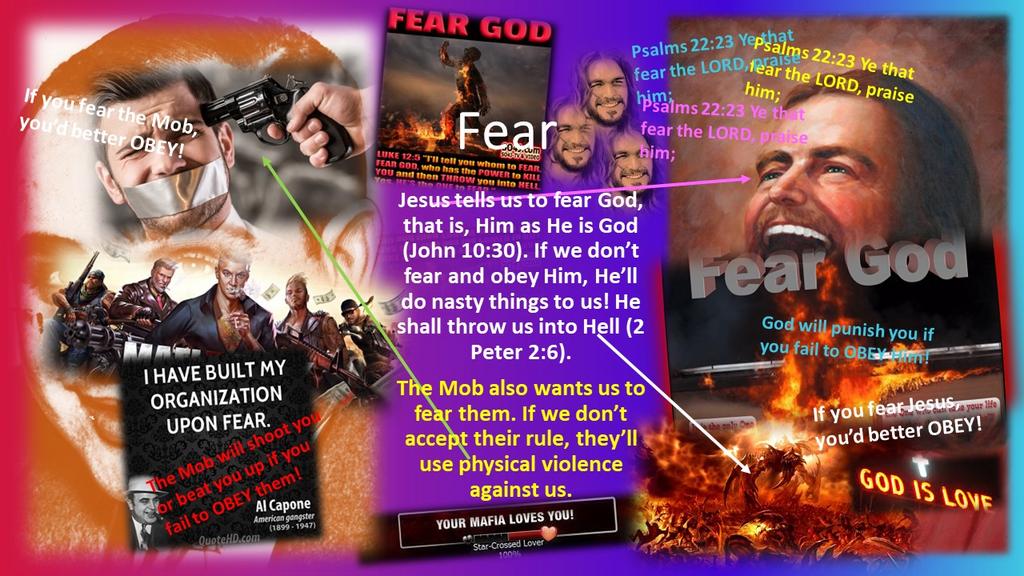 Luke 12:5
But I will forewarn you whom ye shall fear: Fear him, which after he hath killed hath power to cast into hell; yea, I say unto you, Fear him.
Fear
! The common denominator. Without Fear
no-one
would follow
Jesus
! People would just happily engage themselves in
anal intercourse
, scientific studies, astronomy and restaurant dinners. Without the threat of
Hell
no-one would need to follow
Jesus
. Without Fear no-one would pay the
Protection Racket
. They'd just use their savings to develop their businesses and pay better wages to their employers and gather funds for their children's college education.
Jesus
cannot tolerate this. Nor can the
Mob
. Hence, we move on to slide #3.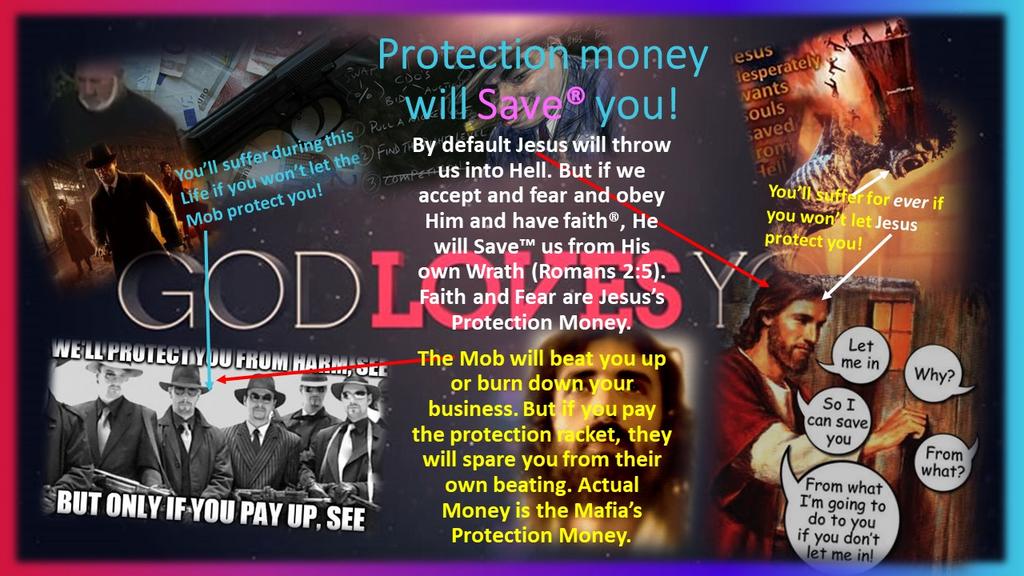 Luke 13:28
There shall be weeping and gnashing of teeth, when ye shall see Abraham, and Isaac, and Jacob, and all the prophets, in the kingdom of God, and you yourselves thrust out.
Fear
is a great initiative. The threat must be Real® to be intimidating enough to change the behavior of the victims (mob) or sinners (
Jesus
). The
Mob
offers physical violence and threatens your Loved Ones.
Jesus
goes one better! He'll offer
Eternal Torment
for both you and your Loved ones. The Reward is in both cases readily available: the Fear-evoking agency will refrain from hurting you if you Obey. Simple and in its Way (Jesus
IS
the Way; John 14:6) elegant. But there are also other
Rewards
. Yay!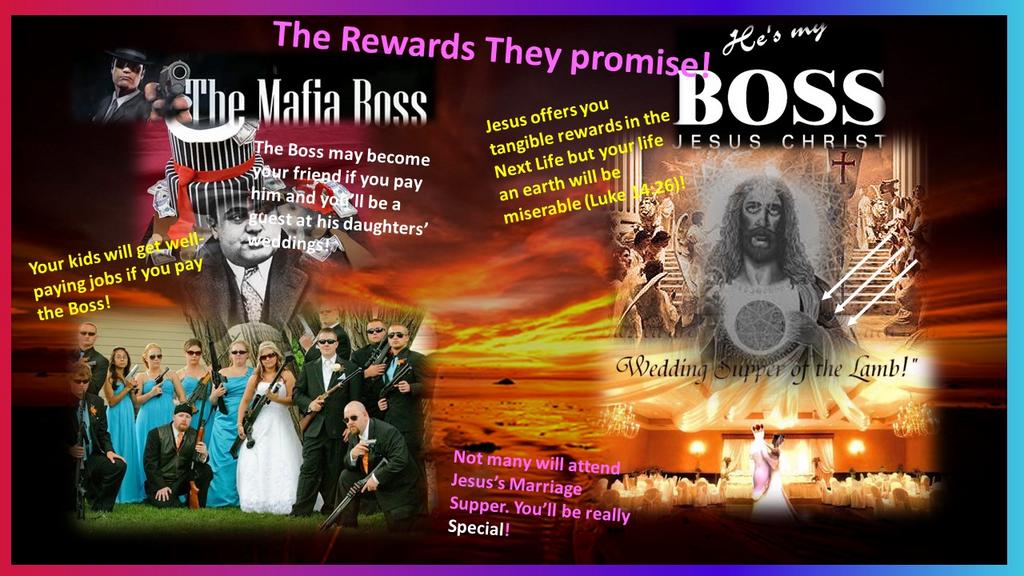 Finally! The
difference
between
Jesus
and the
Mob
. The rewards by the Mafia are lame and unrealistic, they are unimportant. In addition to protection, the Boss will let you attend his parties, help your offspring become a new generation of wiseguys,
etc
. There are all token gifts, nothing tangible. Instead,
Jesus will give you Rewards in the Supernatural Realm of Heaven
. It's so much
better
than anything here on Earth!
Matthew 6:19-20
Lay not up for yourselves treasures upon earth, where moth and rust doth corrupt, and where thieves break through and steal: But lay up for yourselves treasures in heaven, where neither moth nor rust doth corrupt, and where thieves do not break through nor steal: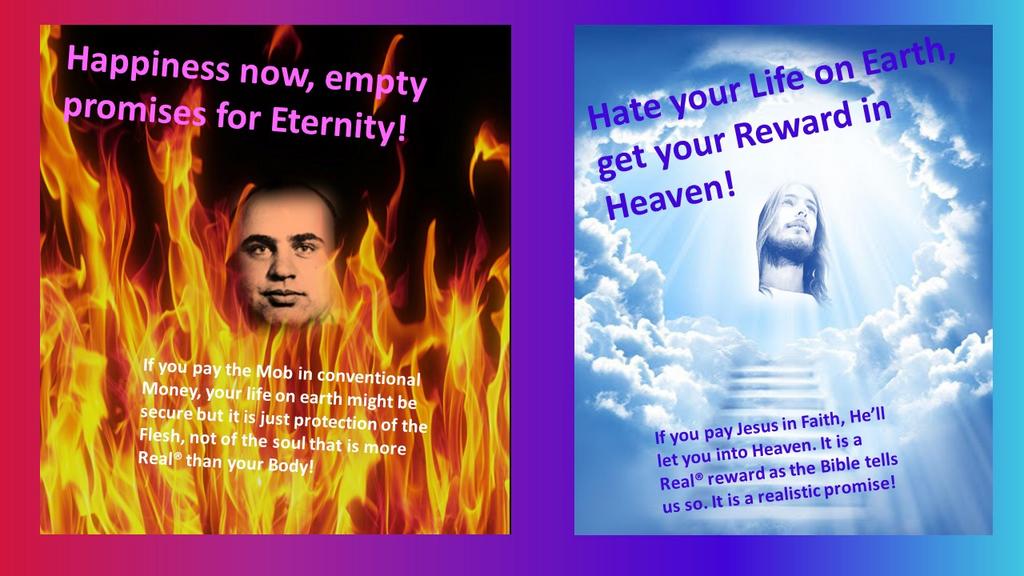 There you
have
it!
Superficial
similarities are unimportant.
Jesus is God
, while the
Mob
is just a
bunch of criminals
. This alone proves us that the methods of
Jesus
are pure Gold, merciful and good and those of the Mob evil and
disgusting
.
Yours in Christ,
Elmer