Jesus set Canada on FIRE because of Justin Trudeau's Bromance with Barack Obama
Friends, the LORD will Not be Mocked (Galatians 6:7)!
We know God is Love (1 John 4:8), but not that way! Ew! When Sodomites flaunt their lusty ways in public, Jesus Weeps! And when He dries His Holy Tears, He gets ANGRY (Romans 1:18)!
Alberta begins to look, and smell, like the Fires of Hell!
From on high, Jesus is watching Canada burn!
Entire communities, towns, and cities have been evacuated to make way for the wrath of God.
The land being ravished by Christ's Retribution is phenomenal.
Brave men take a rest after fighting fires for 80 hours, misguided sympathies directed away from the needs of Christ.
We may ask ourselves, what can Canada have really done all that bad this time? After all, they introduce their children to sexual depravity from a young age, as seen in this preschool show about Glory Holes, "Nanalan": So what, we may ask, could they have possibly done to incur the rage of the God of Love when He so patiently tolerated their disgusting antics all this time?
I think the Truth is clear. This time, the head of the country, Prime Minister Justin Trudeau, conquered the heart of American President, Barack Obama, and has exposed their Bromance with unrestrained passion and rebellion. In this, they not only defy the Words of the LORD (Leviticus 18:22) but they dare Him to not vomit as He is forced to watch (Hebrews 4:13).
Romantic dinner with Champagne? Has Obama finally thrown off
his beard, Michelle, and embraced his homosexual urges for all the world to see?
Public displays of affection, totally unbecoming, utterly repulsive.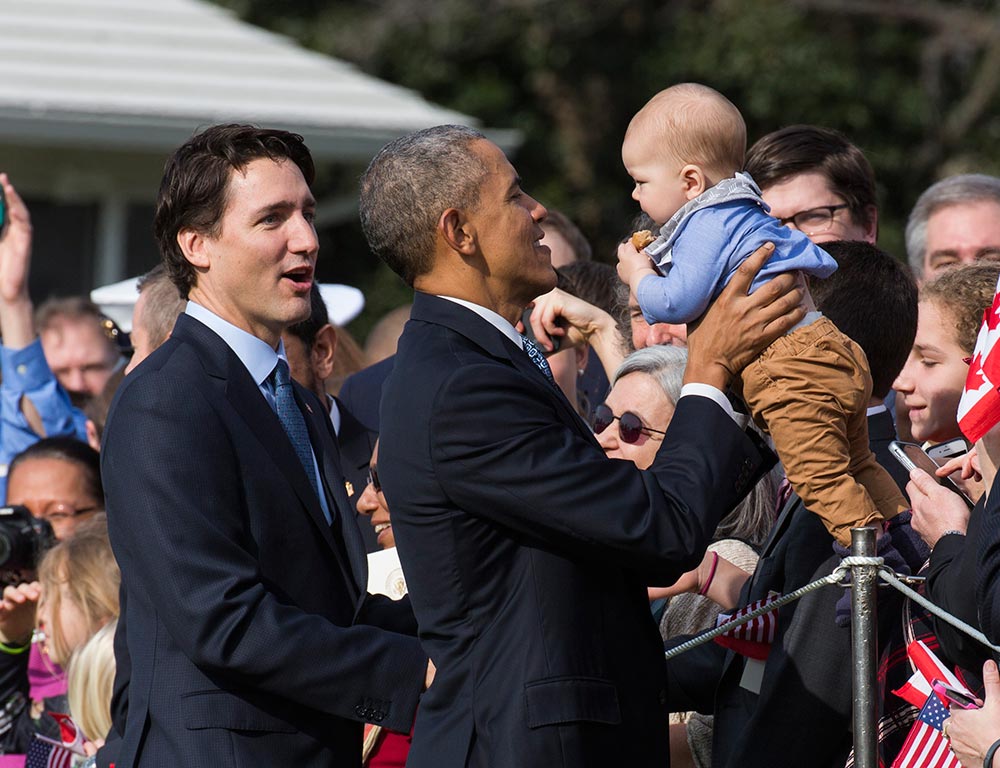 Playing "House," and shopping for babies.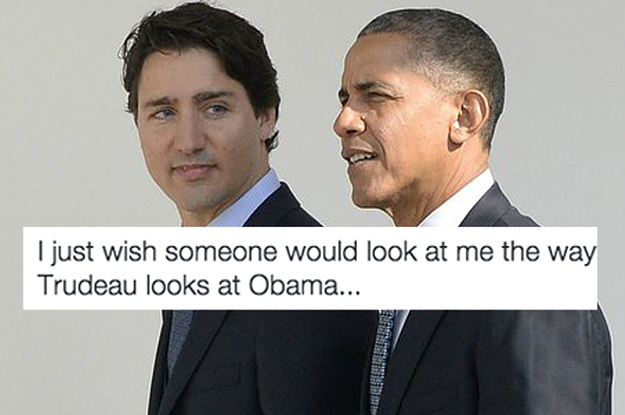 Don't we all?
But whose attention should we really vie for? Leaders? Politicians? Exotic men from dark, mysterious lands?
Or
's?
The answer is clear. The most that would happen following a tiff between Trudeau and Obama is tears, bingewatching romance movies on Netflix, pathetic facebook and twitter updates, copious amounts of Adele music, followed by school lessons on how to grab ankles and eat poo poo. What will happen to those who refuse to put Jesus first? Let's see what the Holy Bible says:
And I will execute great vengeance upon them with furious rebukes; and they shall know that I am the LORD, when I shall lay my vengeance upon them.
Ezekiel 25:17

For, behold, the LORD will come with fire, and with his chariots like a whirlwind, to render his anger with fury, and his rebuke with flames of fire.
Isaiah 66:15

For the wrath of God is revealed from heaven against all ungodliness and unrighteousness of men, who hold the truth in unrighteousness
Romans 1:18

For which things' sake the wrath of God cometh on the children of disobedience
Colossians 3:6
Then Simon Peter answered him,
Lord, to whom shall we go?
thou hast the words of eternal life.
John 6:68
So I ask you, where will YOU go? Into the Arms of Damnation?
Or SALVATION!
For I am jealous over you with godly jealousy:
for I have espoused you to one husband, that I may present [you as] a chaste virgin to Christ.
2 Corinthians 11:2
(no homo)
Replies:
Sally Paulson (12-05-2016 03:42 AM)
:
...
Elmer G. White (12-05-2016 04:39 AM)
: ...the Holy Bible says:And I will execute great vengeance upon them with furious rebukes; and they shall know that I am the LORD, when I shall lay my vengeance upon them. Ezekiel 25:17 For, behold, the
...
Trent Harvey, Jr. (12-05-2016 03:39 PM)
: https://img.buzzfeed.com/buzzfeed-static/static/2016-03/10/12/campaign_images/webdr02/its-trubama-2-8634-1457631601-1_dblbig.jpg :angry: This is why women should not have the vote. The G8 looks more
...
Sally Paulson (12-05-2016 04:13 PM)
: This is why Donald Trump has to sue people who make fun of his tiny hands. He's not weak, insecure and hypersensitive. He has to defend his reputation for good looks, due to the need for female vote. THIS
...
WilliamJenningsBryan (12-05-2016 04:40 PM)
: I always though that Justin Bieber was reason enough to send the Biblical Lake of Fire to Canada.
...
Alvin Moss (12-05-2016 05:57 PM)
: I have carefully scrutinized the pictures of this alleged Canadian, Mr. Trudeau, and I have come to the inescapable conclusion that he is actually Reverend Joel Osteen of Houston, Texas, who is clearly
...
Show all 6 replies.