Adolf Hitler Is in Heaven? Eyewitness Testimony!
Eyewitness Testimony! The best kind of evidence there is! And even better if the testimony is uttered by a True Christian™ Eyewitness. A foreign – and thus slightly suspicious – pastor brings us tidings of his recent visits in Heaven. Based on the data we gathered he may even have visited Heaven 15 times and brought back important information about its population. He met many famous and infamous people up there, and among them was Mr. Adolf Hitler, who is probably, however, alive, and thus apparently just another visitor to the Eternal Mansions of Jesus Christ. But let us look at the evidence in detail: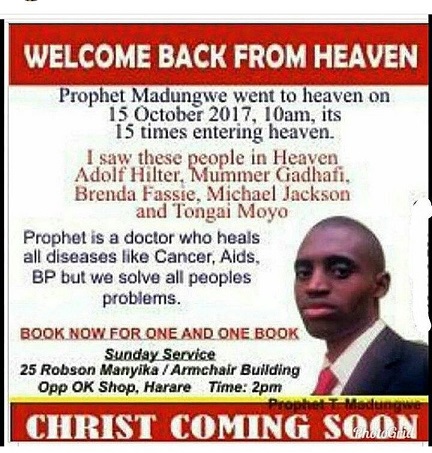 First, is this man a reliable witness? At least he speaks and writes American but the slightly better grasp of grammar when compared to our Beloved President Trump may raise your suspicions… Let us remember that good skills in American orthography are not necessarily evil, although the Bible clearly opposes secular education (2 Timothy 3:5-7). In fact, George Bernard Shaw witnesses to us that foreigners are allowed to surpass pure-blood Americans in literary skills:Quote:
Ja vol
Her English is too good, he said
Which clearly indicates that she is foreign
Whereas others are instructed in their native language
English people aren't
On to the content of this foreign prophecy. The people he thought he met in Heaven: Is it plausible (we'll use the triage of the Myth Bastards here, i.e., "confirmed", "plausible" or bustered")?
Adolf "Hilter" (could mean Hitler): More than plausible. Between the moment he faked the taking of the cyanide capsule and today he has had 75 years to find Jesus and Repent® from his atrocious sins. Confirmed.
Mummer Gadhafi: ??? Probably a passing acquaintance of this self-proclaimed prophet. Plausible.
Brenda Fassie: Nevah heard! But found out that "Her drug and alcohol abuse as well as her bisexuality also received much media attention. Her drug habits hampered her music career until she went to a drug rehabilitation centre in 1995." Apparently a mediocre singer. True Christians™ have committed sins as bad or worse (James 2:10) – Plausible!
Tongai Moyo: ??? Who cares? Jesus probably did not even notice when this person sneaked into Heaven. I'd say Confirmed.
Michael Jackson: Now this is the part of the prophecy that is hard to swallow. Would the notorious catholic-level boy abuser really gain a backstage pass to Jesus? We do have pictorial evidence (see below) but is that enough to prove this beyond reasonable doubt?
This photograph is not in any context! Jesus could as well be in the middle of the process of discarding Mr. Jackson's soul into Hell! But – God did perform a miracle on Michael Jackson! He made Mr. Jackson White!
Psalms 51:7
Purge me with hyssop, and I shall be clean: wash me, and I shall be whiter than snow.
Hence: Mr. Jackson is in Heaven – Plausible.
This Prophet also claims to heal cancer, AIDS and even the vicious condition of high Blood Pressure. This is plausible.
Luke 9:1
Then he called his twelve disciples together, and gave them power and authority over all devils, and to cure diseases.
Overall assessment: quite Plausible. This prophet needs our attention. His eyewitness testimony seems genuine and we can now determine that Mr. Hitler is either unexpectedly dead or was visiting Heaven at the same time as this foreign man was.
I am currently planning a mission to the African continent to find this Prophet and assess with my own eyewitness testimony his credentials. Fortunately I just received an e-mail about an uncle that I did not know I had. Apparently he perished recently in Nigeria and left a considerable fortune ($ 5 million) that I shall inherit after paying the lawyer over there the token sum of $ 4000 for their expenses. I'll be soon sending them this sum. This will allow me to visit the country and examine this prophet thoroughly. Praise Jesus! And it is so nice to know that anyone can Repent.

Jesus does not grade sins (except Matthew 12:31). To just think about stealing an apple from your neighbor's orchard is as bad as a genocide. He'll accept you if you do your Ecclesiastes 12:13properly. Gory to God!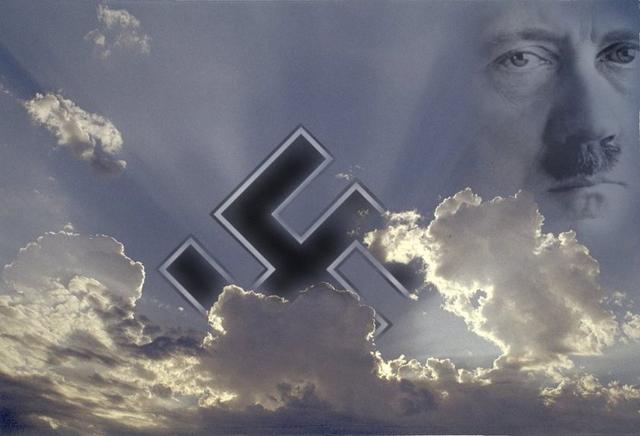 Yours in Christ,
Elmer

Replies:
Prayer Warrior (20-10-2019 05:48 PM)
: https://www.landoverbaptist.net/showpost.php?p=1225797&postcount=11 I was curious so I asked our savoir about this this a few years ago. Turns out Jesus has confirmed I will meet Hitler in the afterlife!
...
Basilissa (20-10-2019 07:42 PM)
: Adolf Hitler was a great man. A soldier of Christ. That's a lie - he was a Catholic believing in all sort of superstitions! :thumbdown: Unless he repented for his false religion at deathbed, he's going
...
Kyrre Eliasen (21-10-2019 03:52 PM)
: :ph34r:Adolf Hitler was not a nazi, he was a communist.
...
Basilissa (21-10-2019 03:59 PM)
: :ph34r:Adolf Hitler was not a nazi, he was a communist.Also, the sky is blue and the grass is greener in the neighbor's yard. Congratulations, though, on just figuring out that Hitler's political party
...
MitzaLizalor (23-10-2019 09:35 AM)
: Funny sort of communist a catholic http://www.ncregister.com/site/article/catholic_persecution_in_communist_russia_chronicled_in_landmark_book
...
Prayer Warrior (23-10-2019 08:11 PM)
: You are my beloved Brother in Christ, Prayer Warrior, so for your sake, I do pray that Jesus meant what you think He meant by this. I hope there isn't something about you that Jesus knows but you are not
...
Show all 25 replies.