It's one thing to speak out against anti-Christian persecution and to defend God's teachings against faggotry, but when doing so, be sure not be a cherry-picking false Christian who denies the rest of Scripture.
Sodomite "news" source: please rebuke the homogay devils before clicking:
Quote:
The Odgaards began God's Original Design Ministry as a 501(c)3 organization, meaning it's exempt from taxes. The ministry aims to defend "traditional" marriage and plans to place 1,000 similar signs across the nation.

The first billboard, which is 14 feet by 48 feet, went up recently in Durant, Okla. It quotes God as saying marriage is between one man and one woman.
That's not all that it quotes God as saying. What's wrong with this picture?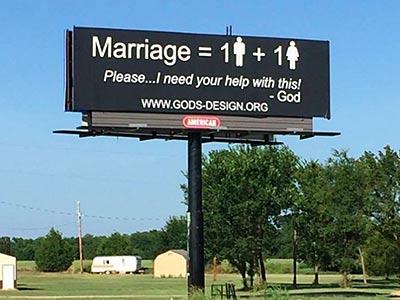 The billboard turns the following Scripture on its head:
[Matthew 19:26 KJV] 26 But Jesus beheld [them], and said unto them, With men this is impossible; but with God all things are possible.
As you will see if you read the comments (or have a pastor or True Christian™ male head of household read them for you), the billboard is already prompting Christ-hating sodomaniacs to mock God even more than they do normally:
Quote:
I'm laughing my [un-Christian word for a body part] off on this! So these religious freaks are saying that their God is totally helpless? Well, non existent beings really don't have any power.
With "Christians" like the Odgaards, who needs out-of-the-broom-closet satanists?