Ladies,
I've noticed many of you are failing to live up to God's expectations regarding ladylike appearance. While there are some discussions of fashion and grooming in this forum, most of them are about what NOT to wear. I understand that as females you love to cattishly swipe at each other in that hen-like pecking order that seems so important in your little world, but there's a generation of young ladies out there who don't know how to dress and they need you to set an example.
I'll get the ball rolling with something my mother taught my sisters:
1.
Instead of makeup, pinch your cheeks.
God likes the ruddy look
, but also wants you to comply with the
Biblical commandment to avoid costly array
(which your husband has to pay for, after all).
1 Timothy 2:8-15:
In like manner also, that
women adorn themselves in modest apparel
, with
shamefacedness
and sobriety;
not with
broided hair, or gold, or pearls, or
costly array
2.
This is a product my mother used. I'm not sure if it's still being made, but you can find everything on Ebay:
3.
Another product my mother used, and I know for a fact that they still sell this:
If you're husband is treating you badly, you're to blame because you stink: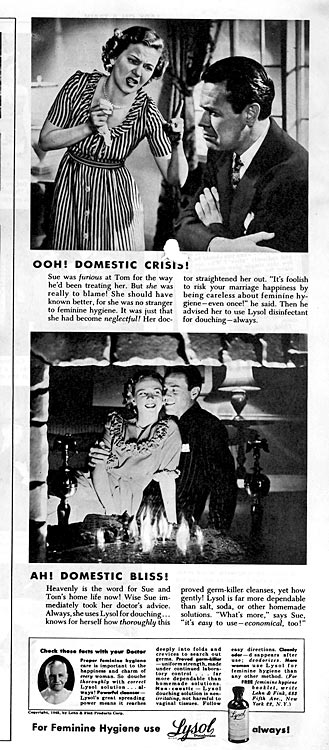 Lysol douches: they're better than salt douches.