Salvation is only possible through Jesus (John 3:16-18).
Christ-less monotheism will not Save a person; nor do good deeds. Still, sometimes a
majestic figure
arises that despite all odds presents a magnificent work of Creation Science. One such figure is the Turkish Nobel-quality researcher
Mr. Harun Yahya
. His
Magnum Opus
, the
Atlas of Creation
, would be a must read for all preschoolers and older children were it not for the Muslim background of this writer. While we wait for him to
accept Jesus
(any day now), we can still assess his work.
This wonderful Atlas is a
series of many books
that prove without any lingering doubt that
Darwinism is a false religion
aimed to destroy God. The
workmanship
is excellent, the
paper
of utmost high quality, the
illustrations
are glorious and detailed. The main part of the Atlas presents various fossils. Now, if the theory of evolution were true (it isn't), we would see
more primitive forms as fossils and more advanced forms at present
. in addition, we would not see these more simple forms surviving the struggle for existence. Mr. Yahya shows repeatedly that there is no change.
The fossils are exactly the same as present forms.
Here we can see an example of Mr. Yahya's logic:
a fossil leaf looks exactly like a modern leaf.
Thus,
evolution fails
and God prevails.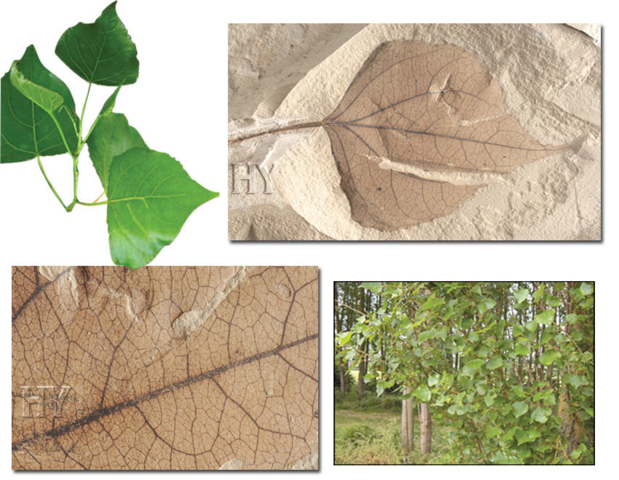 The second proof is in
the absence of any transitional forms
. The theory of evolution predicts that there should be billions of transitional forms and that these forms would have all died out due to "natural selection". Regarding human evolution, the evidence of Mr. Yahya cannot be refuted. If evolution had taken place, we would see either in fossil form or on the brink of extinction all kinds of transitional
humans with two or three spines, several eye sockets, extra brains,
etc
.
WE CANNOT SEE THEM ANYWHERE. Thus, evolution is false.
Also here the pictorial material of the Atlas is first-class!
This is not only true™ when it comes to human evolution (Genesis 1:26). Darwinists also claim that animals would descent from one another. For instance,
mammals would be glorified reptiles and birds just ordinary crocodiles
that have grown wings. Mr. Yahya shows with simple but persuading images how
ridiculous
these claims are. Please, braze yourselves before looking at the following pictures and you may collapse because of your
hearty laughter
(Psalms 126:2)!


Finally, Mr. Yahya reveals the
ugly truths
that the evolutionists try to hide. It is not about science. It is about
genocide, communism and fascism, Nazism, and the persecution
of believers.
Quote:
A strong Darwinist influence can be seen in Nazi ideologues. When one examines this theory, which was given shape by Adolf Hitler and Alfred Rosenberg, one comes across such concepts as "natural selection", "selective mating", and "the struggle for survival between the races", which are repeated dozens of time in the works of Darwin. When calling his book Mein Kampf (My Struggle), Hitler was inspired by the Darwinist struggle for survival and the principle that victory went to the fittest. He particularly talks about the struggle between the races:
Quote:
In short, there is an unbreakable link between the theory of evolution and communism. The theory claims that living things are the product of chance, and provides a so-called scientific support for atheism. Communism, an atheist ideology, is for that reason firmly tied to Darwinism... If we think of the communist concept of "dialectical conflict", whichkilled some 120 million people during the 20th century, as a "killing machine" then we can better understand the dimensions of the disaster that Darwinism visited on the planet.
Now, we know this from the wonderful works of Dr.
Bergman
, Mr.
Ham
and Dr.
Hovind
. However, Mr. Yahya present new exciting data showing that also
all forms of terrorism and atheism are cause by Darwinism.
Quote:
For this reason, if some people commit terrorism using the concepts and symbols of Islam, Christianity or Judaism in the name of those religions, you can be sure that those people are not Muslims, Christians or Jews. They are real Social Darwinists. They hide under a cloak of religion, but they are not genuine believers. Even if they claim to be serving religion, they are actually opposed to religion and believers. That is because they are ruthlessly committing a crime that religion forbids.
For this reason, the root of the terrorism that plagues our planet is not any of the divine religions, but in atheism, and the expression of atheism in our times: "Darwinism" and "materialism."

My assessment
A wonderful book but I'm missing something: the True Christian™ perspective. The author is a Muslim and hence incapable of Salvation at the moment. For instance, Mr. Yahya does not discuss the Noachian Flood or the Garden of Eden, which are also tangible proofs for Creation and falsify evolution, as the time frame required for the mutations (millions of years) is not possible with the Flood about 4300 years ago.
Not suitable for children to read independently.
Very good material when taking preschoolers to bed to watch the beautiful and funny images and to explain the audacity and ridiculousness of evolution.
Recommended for students of advanced Creation Science for the outstanding pictorial material and the novel theory of ALL atheism and terrorism being caused by Darwin.
Jesus uses also unexpected tools to spread His word. Mr. Yahya is one of them.
Exodus 15:6
Thy right hand, O LORD, is become glorious in power: thy right hand, O LORD, hath dashed in pieces the enemy.
Verily, the theory of
evolution is shattered
. Darwinists cannot read this Atlas and not feel incredible fear!

Let us pray that Mr. Yahya finds Jesus and joins us one day in Heaven!
Psalms 18:17
He delivered me from my strong enemy, and from them which hated me: for they were too strong for me.
This is a picture of Mr. Harun Yahya relaxing.
Yours in Christ,
Elmer