Justin Bieber.
The Boy Who Lived. In sin and crime. Mr. Bieber, who messed things up BIG TIME by trying to please Jesus with tattooing His name on his skin. Why would anyone
1.Choose to use
Jesus
's Jooish name instead of His real
American
name and
2.Disregard Leviticus 19:28 by mocking the direct orders of
Jesus
Christ by decorating his skin and forcing Jesus Himself to participate.
This was the Mr. Bieber of yesteryear living a life filled with sin and printed marks on his skin. A terrible sight.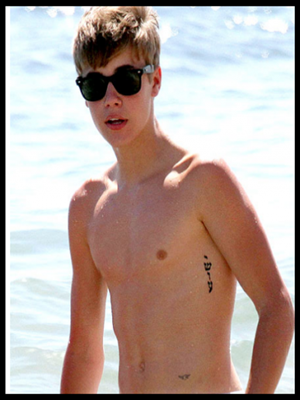 All that is now in the past. Again, the awesome powers of
Jesus
and Prayer have been demonstrated. Mr.
Bieber
has Repented and decided to embrace Creation Science. Recently, he gave an interview where he told the world that
atheist cosmology and evolution are wrong
and the Bible is right!
Quote:
"I'm the type of dude who always wants to figure it out," explains the What Do U Mean hitmaker. "Science makes a lot of sense," he concedes. Or does he? "Then I start thinking — wait, the 'big bang'. For a 'big bang' to create all this is more wild to think about than thinking about there being a God. Imagine putting a bunch of gold into a box, shaking up the box, and out comes a Rolex. It's so preposterous once people start saying it."
There you have it. The
Truth™
: Told by a person of
great eminence
in the language of the youth to the youth of today. This shows us that you don't need academic degrees to debunk cosmology and evolution - all you need is the
touch of Jesus
and some common sense,
repentance
and acceptance of
Jesus
.
Glory!
Indeed, this is
magnificent
news. There's going to be a mighty party in
Heaven
tonight!
Luke 15:7
I say unto you, that likewise joy shall be in heaven over one sinner that repenteth, more than over ninety and nine just persons, which need no repentance.
This is the new Mr. Bieber. He shows the world how he was chained by sin, by the secular world view, by sex and crime. By the act of
Jesus
he is now free to preach the world Creation Science. How much more accurate and detailed than the far-fetched theories of atheist academics! Mr. Bieber has the makings of becoming the new Apostle Peter of our times!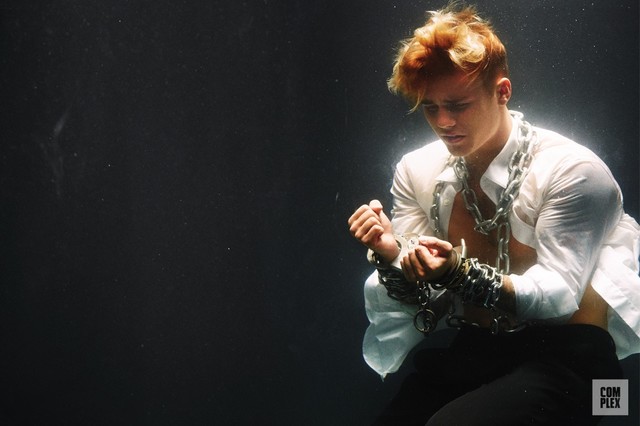 Acts 12:7
And, behold, the angel of the Lord came upon him, and a light shined in the prison: and he smote Peter on the side, and raised him up, saying, Arise up quickly. And his chains fell off from his hands.

Rapture
is coming (1 Thessalonians 4:17). Mr. Bieber will lead his millions of followers into the bosom of Jesus. There must be tens of millions of young men who admire Mr. Bieber and his hymns and want to be just like Justin. These young men are the "
Beliebers
" and now they'll turn into
True Believers™
.
Quote:
So there you have it. He touches all – from his 68 million Beliebers to guys who'll literally get arrested for criminal assault and battery just to tell him how much Boyfriend spoke to them. The Justin Bieber Rapture is upon us: let us pray we all get swept up.
Furthermore, this brave young man is fighting the plague of
sodomy
thus saving many, many more young male lives for Jesus.
2 Corinthians 5:17
Therefore if any man be in Christ, he is a new creature: old things are passed away; behold, all things are become new.
I am quite certain that at the Spritual level, Mr. Bieber will be the bride to give himself to Jesus in body and soul!
Revelation 19:7
Let us be glad and rejoice, and give honour to him: for the marriage of the Lamb is come, and his wife hath made herself ready.

Yours in Christ,
Elmer