Praise Jesus!
Through some
beautiful near-death experiences
we have new reports about the reality of
Hell®
, the most effective and admirable invention by
God™
.
Psalms 9:17
The wicked shall be turned into hell, and all the nations that forget God.
People who by nature were
wicked
were shown how
Jesus
punishes those who oppose Him. This is a summary of these timely and heart-warming reports! First, a
young boy with bad manners
was given
leukemia
because of his antics (Exodus 9:15). What happened next took the unbeliever community by
awe
!
Quote:
Tommy Benson has been called many things during his ten years of life. A little prick. A sneaky shit with no manners. A boy who deserves a swift kick in the ass. (...)
But life hasn't all been fun and games for Tommy. He is currently suffering from leukemia and last week nearly died at Presbyterian Children's Hospital. For all intents and purposes, he actually did pass away on Tuesday, as Tommy's doctor, Tim Richards, was prepared to declare the boy dead after several minutes of failed attempts to revive him.

But something amazing happened in that small hospital room with some of Tommy's family surrounding him. As Dr. Richards was about to announce the death of the boy who had gotten four of his mother's boyfriends to commit violent crimes just so they could be safely behind bars, Tommy suddenly woke up, more full of life than he had been in months.

And what Tommy had to say shocked everyone.

"[Tommy] explained to all of us that he had visited hell," Dr. Richards said. "According to him, he met Satan and everything."
What
did this child see?
Quote:
Tommy says it's truly all the fire and brimstone you've been led to believe it is.

"It was really hot," Tommy said. "I met the devil and he showed me around for a while. He showed me a place where people were getting all kinds of things put into their butts."

From what Tommy can remember, the items viciously inserted into the anuses of hell's residents included everything from live animals and red-hot bowling balls to other people who were shrunk down to fit into a butthole, but by no means comfortably.

Tommy's mother, Susan Benson, remains baffled, but also scared at the event her son experienced.

"I just couldn't – I can't – believe what Tommy was telling me," Susan said. "But he described everything in such vivid detail, right down to Satan's apparently horned penis."
We must, obviously, assess this account for its
veracity
. Of course,
eyewitness testimonial
is the
best kind of proof
that always surpasses any observations my microtomes or tellyscopes. But a
child
as depraved as this Tommy could
lie
, couldn't he? Let us look at the testimony above! Would a mere child know about the
intricacies of anal torture and Satan's penis
unless he were an
altar boy
of a Catholic Cult Temple? And this child was not a Catholic. Catholicism is mostly
genetic
, and the forefathers of this boy were
decent
citizens as follows:
Quote:
"Tommy knew things about my father's white supremacist past that I never would have dared to tell him," Susan said.
Second, a
woman of the lesser sex goes to Hell
, too!
Quote:
Angelica Elizabeth Zambrano Mora, aged 18 from Ecuador wrote Prepare to Meet Your God and in it, she talks about being dead for 23 hours and finding herself in hell among many celebrities that include Michael Jackson the singer and Pope John Paul II.
Again, we must consider the
truthfulness
of her account. Is it reliable? We must employ the
Criterion of Embarrassment
here. If a
Catholic
woman (and she must be as she is from the Equator) tells embarrassing facts about their chief cultist the Pope, it must be
True™
and if
that part
of her story is True™, it must be
all
True™
. Of course,
everyone
knows that Michael Jackson is in
Hell
so that is no evidence but just
common knowledge
.
Quote:
The woman said that the Lord had told her that there were many famous people in Hell and many who had known about the Lord and he had said that he was going to show her another part of the furnace. She went on to describe a place and seeing a woman surrounded by flames and she was tormented and begging for mercy from the Lord.
Is this plausible? Yes, it is!
Luke 16:24
And he cried and said, Father Abraham, have mercy on me, and send Lazarus, that he may dip the tip of his finger in water, and cool my tongue; for I am tormented in this flame.
Quote:
The woman said how the Lord had signaled the woman with his hand and said to her you see that woman there in the flames, it is Selena. They then walked closer to the woman and she was shouting and screaming to be shown mercy and to be taken out of the place. The Lord was said to have looked at the woman and said that it was too late to repent.
Such a
beautiful
account. What does all this
teach
us?
Hell is real!
Michael Jackson and many popes are in Hell.
Dante did not miss the mark too much when he wrote Divina commedia (he failed in the Purgatory and Heaven department, though). He also noticed popes in Hell.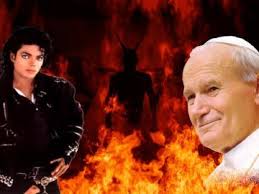 Luke 16:19-26 tells us that one day in
Heaven
,
we
shall be able to stroll on the gently sloping laws and visit the
Great Gulf
between
Heaven
and
Hell
. There
we can watch
as the unbelievers are eternally tormented without parole. It is going to be such a nice day!
Thank you, Lord Jesus
, for providing us with quality
entertainment
for Eternity!
Hell
.

Yours in Christ,
Elmer