Exciting News! A new ice cream brand is making its way into the Godly U.S. of A. While this company originates in Godless Canada, it has lots of growth potential and - even more importantly - its franchise is firmly based on Biblical True Christianity™. It is called the...
Now, we
can
utter the
Name of our Lord
in vain (Exodus 20:7) but it is quite clear that this product was
given
us by our
Lord
to enjoy. Proof below:
1 Timothy 6:17
Charge them that are rich in this world, that they be not highminded, nor trust in uncertain riches, but in the living God, who giveth us richly all things to enjoy;
I had the privilege of trying out this creamy delight while visiting the Godless Canada for the purpose of evangelizing.
Sweet Jesus
has shops in many major Canadian towns (not as important than even the tiniest American town but I digress) and at this very moment also in Baltimore,
Godly USA
. Now, I can hear you asking, is it
Biblical
?
1. Is Jesus "sweet"?
Do we
blaspheme
if we call Him that? No, we don't! He
is
of s
weet savor
.
2 Corinthians 2:15
For we are unto God a sweet savour of Christ, in them that are saved, and in them that perish:

Ephesians 5:2
And walk in love, as Christ also hath loved us, and hath given himself for us an offering and a sacrifice to God for a sweetsmelling savour.
2. Children
generally
like
ice cream, which is
suspicious
and might make them
not
hate their lives (Luke 14:26). Is this brand teaching them
Biblical values
? It is. Let us look at some of the advertisements of this company: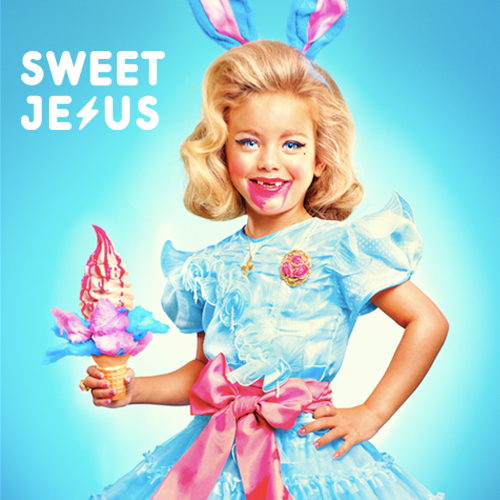 A
chaste
girl. No masculine clothing, no
gender-confusion
(Deuteronomy 22:5). And the company logo does include the
lightning bolt
that
Jesus
will use to smite sinners (Revelation 16:18) in the
very near
future (Revelation 22:20). Just a plain modest Caucasian girl ready to take on womanly duties of childbearing and servicing her husband. What about the
boys
?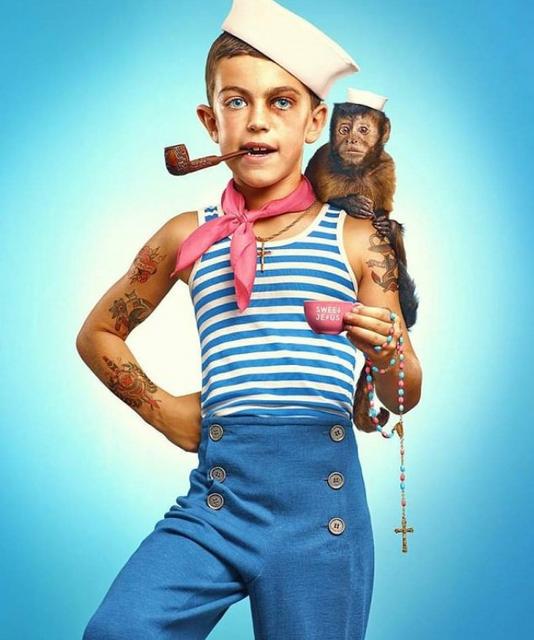 A
manly manchild
! What other profession more masculine and free from fornication as the U.S.
sailor
? The boy also bears a
cross
to remember
Sweet Jesus
everywhere
in the heathen lands that he may visit on his ship! The images are probably
not
tattoos and if they are, they are
not
inexcusable (Matthew 12:31) and can be removed by
prayer
(James 5:16).
3. The product?
Is it
Godly
? In fact, it is even better! It has been designed to
irritate the Catholic
s!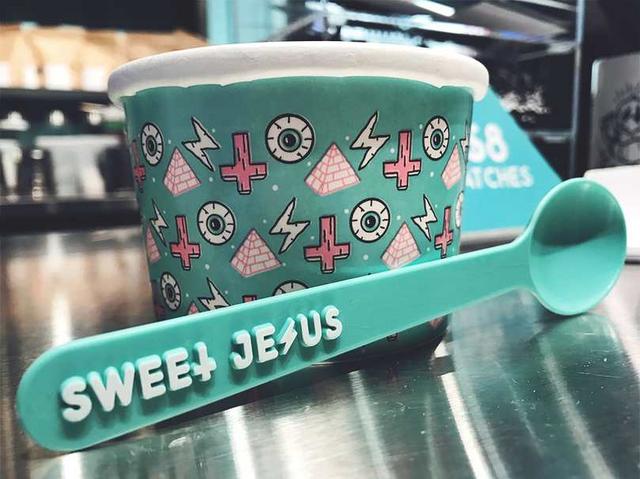 As you can see, it has the
Petrine Cross
depicted on the cup. The Cross of Peter is based on the Catlick tradition,
not
the
Bible
. No wonder many Catholics are outraged because of this product as it mocks them as it should.

There is also the
Pyramid
and the
Eye
to remind us of the
Egyptian Pagan roots of the Papist cult
. Proof in an image as follows:
4. What about the flavors?
Do they provide any
Biblical
material to chew on? They DO!
Glory
!
Red Rapture!
Is the Rapture going to contain
red
things? Indeed, red entities will appear during the End of Times!
Joel 2:31
The sun shall be turned into darkness, and the moon into blood, before the great and the terrible day of the LORD come.
Revelation 6:4
And there went out another horse that was red: and power was given to him that sat thereon to take peace from the earth, and that they should kill one another: and there was given unto him a great sword.
There's also a
Hella Nutella
to remind the kids of the unpleasant alternative unless they repent and take their punishments praising
Jesus! Praise Jesus!
Look at the image above!
So True™
. We should always eat as if the meal we're consuming were
our
Last Supper
.
Jesus
will come any moment now. We need constant reminders! He'll
come so quickly
that the sinners won't even have time to cherish the moment His sword (Revelation 19:21) penetrates them and sends them into
Hell
!
Incidentally, the
flavors taste quite good
, too, I recommend the
Lemon Coconut Cream Pie
as I
love
Cream Pies, and the portions are large at reasonable prices. I urge the Freehold community to
establish an outlet
as soon as possible, although I do strongly suspect that this product will also be available once we are taken into the
clouds
(1 Thessalonians 4:17) and switch unto the
Celestial Server
!
Yours in Christ,
Elmer