Well all know the story of the Titanic. How could anyone not? It was the subject of that bombastic blockbuster by James Cameron.
Who doesn't recall the siren shrills of goggly teenagers belting out that dreadful song by Celine Dion?
In more recent years, it's come to light the shady truths involved in the disaster; a
Jewish plot to protect the Federal Reserve by killing prominent opponents
, including
one Isador Straus who has been recently linked to the Weinstein/Epstein/Prince Harry pedophilia trafficking chain
(warning: long read and very unpleasant - in a nutshell, the Jews throw each other under a bus when it suits them),
a switch to replace the ship with a look-a-like to claim insurance
, but mostly, we all know the truth of the Titanic that remains un changed;
a flippant finger to God Almighty challenging His Dominion over us all, and the hubris of man who deny his Absolute Power.
2 Samuel 22:33 God is my strength and power: and he maketh my way perfect.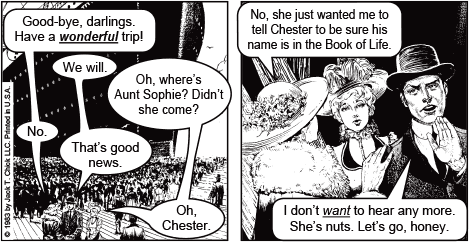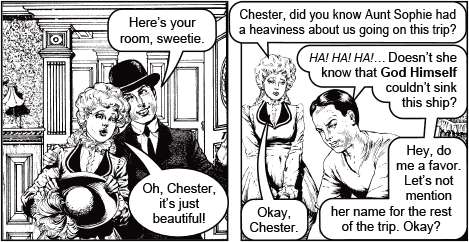 There's much more I found out too, you see, Lars was a great admirer of the Titanic disaster. After he vanished, I found all sorts of paraphernalia on his monitor, but one particular entry stood out as particularly blasphemous.
I learned Lars had been giving funds to this seemingly nifty and clever pop-up venture:
Titanic: Honor & Glory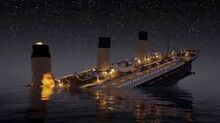 To the secular eye, this "game" appears to be a triumph in cutting edge technology, not unlike how the R.M.S. Titanic was to many in 1912; capturing the entire ship in stunning 3D, rendering from stem to stern. Of course, respect and dignity are foreign concepts to the secular mind, considering they are making a game recreating the deaths of over 1,500 people...it's almost as vulgar as the ship's orchestra performing Nearer My God To Thee like a cheap pop-number, reminding the damned souls onboard of the
that awaits!
The question I wonder is; why does this game call itself
Honor & Glory
yet pays no such tribute to Our Lord and Savior; Jesus Christ?

Going down the rabbit hole, we shall see it gets worse.
Honor & Glory in this game refers to a
clock
!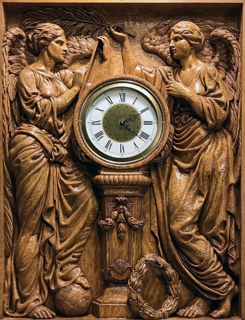 This clock appears in the game -
Honor & Glory Crowning Time.


Acts 1:7
And he said unto them, It is not for you to know the times or the seasons, which the Father hath put in his own power.
Do the makers of this game dabble in what is not for man to concern one's self Is it not the same hubris that lead God to drown the Titanic in His mighty waters? We are reminds of
Nebuchadnezzar
when we cower in the bowers of opulent luxury, to deny Him and pay homage to man?
Daniel 4: 30
The king spake, and said, Is not this great Babylon, that I have built for the house of the kingdom by the might of my power, and for the honour of my majesty?
It appears the donations Lars gave to this game had been in vain - closer examination reveals the donation money links to credit card of the game's director who had been siphoning funds for pleasure cruises, lobster dinners, and other extravagances rivalling that of the lost souls onboard Titanic. How can so many be duped?
It's not like giving money to the good apostles of Jesus, who preach His Holy Word today. This photograph exposes that funds are being used to pay so this man can sip green tea (like a elitist homer no doubt) and stand idle from the decks of an exclusive balcony suite of some modern day pleasure craft!

This man is not Godly.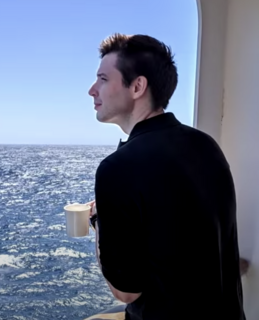 So I ask this... why is okay for a game capitalize on a tragedy in effort to jew Jesus from His rightful $$$?
There were 16 Danish passengers onboard and only 1 survived. The others were lost to Hell. That one survivor likely went to Hell too.
Their screams of agony are in vain if the funds for this game aren't immediately divested from honoring a trivial footnoot in history, and directed immediately as a love offering to
.
Boycott Titanic: Honor & Glory to turn away from their secular ways and not make the same mistake as the real Titanic! Tell them to HONOR Christ instead!
Isaiah 43:2 When thou passest through the waters, I will be with thee; and through the rivers, they shall not overflow thee: when thou walkest through the fire, thou shalt not be burned; neither shall the flame kindle upon thee.

1 Timothy 1:17
Now unto the King eternal, immortal, invisible, the only wise God, be honour and glory for ever and ever. Amen.