The NRA Convention
: The Next Best Thing after
a good Landover Baptist Sermon
, and only slightly less invigorating than having your wife go through
menopause
with your own mental sanity and unmentionable body parts unscathed. Looking Good!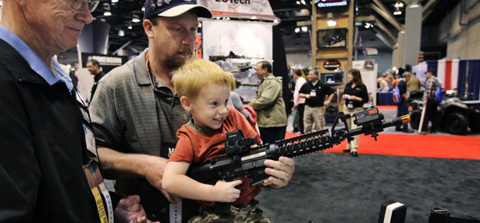 Now, things are
not
looking good. A recent study in a prestigious (but unfathomably
ill-named
publication), the
New England Journal of Medicine
, displays this
top event
of the year in a
suspicious
light (why the New
England
Journal of Medicine, I only ask, why not the
"Conservative American Journal of Medicine"
?). It seems that against all odds, there is
LESS gun use during the Conventions than during any other time of the year
. We have to accept this
shameful
piece of news as an ugly FACT.
Quote:
Dr. Anupam Jena of Harvard Medical School and Andrew Olenski of Columbia University compared firearm injuries during the conventions each year from 2007 through 2015 with injury rates three weeks before and three weeks after each event.
A decline of 63 percent was seen in the states where the conventions were being held, apparently due to large numbers of gun owners being at the events, as well as, in some cases, gun venues such as firing ranges or hunting grounds having closed while their staff attended the convention.
Nationally, there was a 20 percent reduction in firearm injuries during the convention.
We'll soon assess why this is not only a
dangerous
development but also
anti-Biblical
. Before that, let us look at some more data:
Quote:
"We're saying, 'Here's a brief period of time when people likely to use guns are not using them,'" and the injury rates go down, Jena told Reuters Health by phone.
This is the key finding. People who should use guns are
not
doing that just because they are surrounded by like-minded
good Christians
. This may seem a prudent thing to do - after all -
guns protects us from guns
just as
Jesus protects us from what He will do to us unless we accept His protection
(John 3:18). It is time to assess what
Jesus Christ
thinks about weaponry!
Luke 22:36
Then said he unto them, But now, he that hath a purse, let him take it, and likewise his scrip: and he that hath no sword, let him sell his garment, and buy one.
Jesus
urges
us to buy swords. The
gun
is the modern sword. It is our duty to obtain them through
purchase
. However,
Jesus
also states that buying a gun comes with
an unexpected prize
.
Matthew 26:52
Then said Jesus unto him, Put up again thy sword into his place: for all they that take the sword shall perish with the sword.
This may seem
contradictory
to the uneducated mind of a sinner or a woman.
Jesus
commands
us to buy weapons and then
warns
against using them. For a Godly
True Christian™ man
this is simple and plain: 1) Buy guns. 2) Be prepared to be
injured
. Conclusion:
Injuries are just what Jesus expects
. The
Biblical
use of guns includes some inevitable and unfortunate but ultimately Jesus-servicing collateral physical damage. If there were no injuries,
worse things might happen
and, to say the least, the commands of
Jesus
would be unfulfilled.
This is the fault of the Democrat Secret Service. For God's Sake! They even
banned guns
at
Trump
rallies!
No-one
is suggesting shooting at people but just
regular gun care
at the Conventions by a regular NRA member with the
skills
he has.
Quote:
"I have worked with lifetime members of the NRA who secretly confess that they have unintended discharges of their rifles or shotguns. And this study doesn't account for the unintended discharges that didn't result in injury," he [Dr. Hargarten] told Reuters Health in a telephone interview.
Now, I think that while unintended gun discharge can be
bad
, is it any
worse
than
unintended discharge of Bodily Fliuds into a receptive rectum
during gay
intercourse
?
Yours in Christ,
Elmer