Glory, Praise Jesus
,
etc
. Once again the
Bible
reigns supreme. A recently published study illuminates the somewhat ambiguous happenstances that took place after
Noah's Ark
reached dry land and repopulated the Earth about
4350 years ago
. Only through the Sin-Free lens of
Creation Science
can we unravel these mysteries by interpreting the results of this new study to be compatible with the
Bible
.
These new
scientific results
are as follows:
Ancient humans had many deformities, even more than the sinful swarm of our current species.
These deformities can be seen in the bones with crooklegs, "elephant man" skulls and many more abominable signs of retardedness.
These disgusting deformities are caused by inbreeding, that is, incest, fornication among family members.
Quote:
An archaeologist examined records for two ancient infants, six children, four juveniles, six adolescents, 30 prime age adults, and eight older adults.
The bones, found at sites across Eurasia and the Middle East, mostly date to the past 200,000 years.
In total, the researcher, from Washington University in St. Louis, Missouri found evidence of 75 skeletal or dental abnormalities
Quote:
The anthropologist also suggested that inbreeding was responsible.
Some abnormalities were inherited conditions, and the chances of them appearing so often in small populations would have greatly increased if breeding occurred among closely related individuals.
This is supported by previous DNA analyses, which have shown that human populations of this era had a low genetic diversity
These are the bones, among them there are
dwarfs
, hideous
monsters
and all kinds of
freaks
not compatible with God's Master plan!
All that is mildly interesting but certainly
not thrilling.
Only with Creation Science will these results make any sense. Let us look at the most significant points in detail:
Eight older adults from Europe and Middle East.
Date: past 200,000 years. Obviously the atheists would rely of Carboniferous dating applications to mock God, so we can safely say that the bones are at least 4350 years old.
The deformities are caused by incest and they are hereditary.
The bones represent closely related individuals meaning that they are all of the same family.
Little do the atheist scientists understand. They don't even realize that
they have found the remains of Noah and his family
. With appropriate
Biblical
proof we can now state this with >100% certainty.
1.
Eight older adults
. We know that these are Noah, his sons and their wives as there were
eight
of them in the Ark (Genesis 7:1).
2. Above we determined that instead of 200,000 years, the
remains are presumably 4350 years old
. This
fits
the known timeline of Noah's Flood.
3. The remains are from Middle East and Europe. We know that
Noah landed in Middle East
(Genesis 8:4). Europe is
not too far
so we can safely assume that some of his progeny went on to Europe to build the Stones and Henges.
4. But,
was there incest
? While all the survivors belonged to one family (as stated in the results of the study),
how
did the actual incest take place? While this must leave the atheists baffled, the
Bible
provides us with a definite answer.
Genesis 9:21-22
And he drank of the wine, and was drunken; and he was uncovered within his tent. And Ham, the father of Canaan, saw the nakedness of his father, and told his two brethren without.
Did Ham leave it at that? Countless generations of Creations Scientists have pondered this question.
Did Ham sodomize his dad?
Until now, the answer has evaded us. Now we know.
Quote:
The anthropologist also suggested that inbreeding was responsible.
Inbreeding between Ham and his father in drunken stupor. No wonder God was so angry. But -
how
could
a homosexual union
produce deformed children with crooked legs, soft bones and the swishy character that is typical of sodomites? Once again, the secular scientists remains in obscurity but the
Bible
tells us the reason!
Exodus 20:5
Thou shalt not bow down thyself to them, nor serve them: for I the LORD thy God am a jealous God, visiting the iniquity of the fathers upon the children unto the third and fourth generation of them that hate me;
Not only the union of sperm cells and ova is propagated down to future generations.
Sin is also hereditary
.
Sodomy
is the sin that caused the deformities. This proves that
the Bible is >100% accurate.
sodomy causes severe side-effects.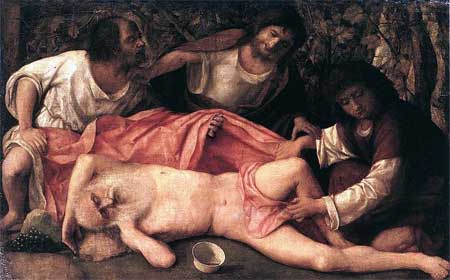 Time to add the
final piece
of the puzzle. Let us look at the scientific article once more:
Quote:
Scientists said the sheer volume of these deformities was surprising, with two-thirds of the ancient abnormalities occurring in fewer than one in 100 modern humans.
One quarter of the deformities are rare or extremely rare in modern human populations, while 20 per cent defied proper diagnosis.
Why
are these deformities rarer today?
BECAUSE IT'S BEEN MORE THAN FOUR GENERATIONS SINCE HAM'S ANAL RAPE OF HIS FATHER
!
Deuteronomy 5:9
Thou shalt not bow down thyself unto them, nor serve them: for I the LORD thy God am a jealous God, visiting the iniquity of the fathers upon the children unto the third and fourth generation of them that hate me,
Not
each and every
single son of the next generation sodomized their fathers although presumably many did and still do. After some generations
the sin started to dilute
and eventually the relatively robust and handsome race of the
heterosexual American Male
emerged.
Conclusions:
The Bible is true.
We now know that Ham raped his father's rectum.
This caused severe bone disease and other horrible deformities.
The American Heterosexual Male is the purest form of humankind since the Flood.
Glory.
God bless
President Trump
in His innocence and genetic purity!
Yours in Christ,
Elmer