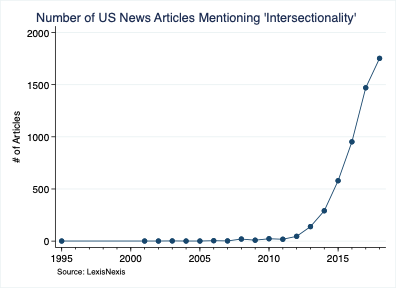 Something happened around 2012. In another thread
[linked
(RIGHT)
]
a similar upward trend was reported for mentions of "White Privilege" in the news media. The outcome in that case was a lessening of sympathy among liberals for the majority of welfare recipients. Why? Because most people living in poverty also experience white privilege.
The liberal mind is a socialist mind. It thrives on economic theory and deconstructed models of society. An individual becomes fragmented and can be identified using multiple criteria at the same time. The head of a Christian home for example would not be seen as a whole person but as each facet of his identity in isolation, at different times, by different people using different assessment criteria. At work he would be an employer
ONLY
. Perhaps he owns a small business, or a large one, or is a contractor or professional consultant. In that capacity he is exploiting those whom he employs to bloat himself at their expense and the proof is that he has more money than they do. Then when he goes to buy a car, maybe an off-road vehicle for fishing trips, a different criterion is applied. Now he's a climate cannibal
ONLY
, until he goes home of course when he immediately becomes
HITLER
. Wives in this model are sex traitors, unless belonging to an ethnic minority in which case they're
custodians of other ways of knowing
, more often described as
starving
.
This is how they see the world. So what happened in 2012? To address that we need to look back a few years. One area would be education and new perspectives offered through novel degree courses. A good example would be ethnobotany. Someone could identify as a shaman and as a doctor and as a sociologist all at the same time (although at any one time only a single identity would be manifest) then awake to the fact of discrimination from Big Pharma when you were being a shaman, from witches when you were being a doctor and from macroeconomics when being a sociologist. You would be at the intersection of three railway lines with three trains of discrimination crashing in your head.
Another example how intersectionality prevents a coherent grasp of reality pops up in some of those gab-fests where participants change hats every five minutes, many of them being mutually exclusive. We'd need to look a few years before 2012 and I've taken a five- or six-year interval; that allows for the movers and shakers to get their Masters in ethnobotany, a solid intake of whatever the shaman's soup du jour happened to be (something unpronounceable, probably a made-up word like Ibgtbernayantheauascajj) and the dissociative disorder which most of them seem to have. Not the participants themselves, however: they know exactly what they're doing. We will be looking at
Strategic Foresight Group
's third international Roundtable on
CONSTRUCTING PEACE, DECONSTRUCTING TERROR
. It starts off well:
Quote:

Restructuring Relations between the Western and Islamic Countries




European Parliament, Brussels, 26-27 November 2006



Co-hosted by
Strategic Foresight Group and the Alliance of Liberals and Democrats for Europe Endorsed by the League of Arab States




Strategic Foresight Group and the Alliance of Liberals and Democrats for Europe in the European Parliament convened the Third International Roundtable on Constructing Peace, Deconstructing terror held at the European Parliament, Brussels, on 26-27 November 2006. The Roundtable was endorsed by the League of Arab States. It engaged important public institutions from the Western and Islamic worlds.
In the same way as discrimination could be perceived by our earlier shaman/doctor/sociologist on multiple fronts, here too could affront be taken in different ways according to which hat was being worn. Have the objectives of this gab-fest emerged to a greater or lesser degree than expected since 2006?
Quote:

About 40 leaders from Europe, Asia and the Middle East participated in the Roundtable. They included serving cabinet ministers, former ministers, leaders of parliamentary groups, special envoys of the heads of multilateral organisations and directors of important institutions. The distinguished group recommended an Inclusive Semi Permanent Conference on Peace in the Middle East, Western Islamic Dialogue and Engagement Initiative, International Historical Study Group on Common Human Civilisation, Arab Islamic Renaissance Initiative and the promotion of the Compact of Dialogue-Democracy-Development.
A participant could be, say, the director of an important institution but also a raving lunatic, an arms dealer and a communist all at the same time. Multiple statements made by one person, speaking in different capacities, will often cancel one another out resulting in nothing having been said at all, as the speaker would know very well. Different statements made to different audiences would raise expectations with no chance of becoming reality. After a while this would become apparent to even the most bubble-headed socialist, quite possibly having completed an ethnobotany degree in the meantime, bringing us to 2012 and the sudden upsurge of "intersectionality" in news media. The director + lunatic/arms dealer/communist I imagined could attract criticism in one capacity while simultaneously being condemned by someone else in another. The subjective experience would be intersectional denunciation, from multiple sources, for different reasons.
That's for a fragmented director. It's unlikely at the Roundtable there'd be many of those, other than observers taking their splinter of good news home and going into meltdown when the inevitable happened. Somehow they'd need to accommodate their woe and right on cue we're told how multiple identities attract multiple perceptions of discrimination.
Really what they're seeing are multiple ways in which they've been deceived. This is what it's like living without Christ Jesus.
I Thessalonians 5:22-24 Abstain from all appearance of evil. And the very God of peace sanctify you wholly; and I pray God your whole spirit and soul and body be preserved blameless unto the coming of our Lord Jesus Christ. Faithful is he that calleth you, who also will do it.