With Presidents Trump and Putin the world has seen unprecedented prosperity, goodwill, peace and return to Biblical values during the last months. We all thank Jesus Christ for this precious state of affairs. However, Satan has not remained idle. On the contrary, in Godless Europe, the homeland of the European Union, sinister forces are still fighting to gain more troops for the Enemy come Rapture (1 Thessalonians 4:17).

The most revolting example has almost always been
France
. A Papist
AND
a leftist hotspot. Recently, there was new hope for this sorry excuse of a nation with
Mrs. Le Pen fighting for Christian values
and on the verge of becoming the leader of the Gauls. Her victory would have secured France's position as one of the countries defending
Jesus
during the
Tribulations
(Revelation 6:2).
However, while our prayers were magnificent,
Jesus
must have rejected our pleas because the French people
failed
to repent. In contrast, they chose
Mr. Emmanuel Macron
as their next leader. Let us assess this person and his policies. He is married to
Mrs. Brigitte Trogneux
. Initially I thought that he had married this elderly lady our of Spiritual Charity and that she would have been a widow.

1 Timothy 5:5-7
Now she that is a widow indeed, and desolate, trusteth in God, and continueth in supplications and prayers night and day. But she that liveth in pleasure is dead while she liveth. And these things give in charge, that they may be blameless.
Alas, no, she is a
divorcée
.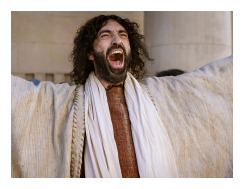 Matthew 5:32
But I say unto you, That whosoever shall put away his wife, saving for the cause of fornication, causeth her to commit adultery: and whosoever shall marry her that is divorced committeth adultery.
OK. She is a
divorcée
and
he
is an
adulterer
. This is not a good start. It doesn't get much better, as
he is not a Christian but a Catholic
who was educated by the
worst of the worst
, among the Jésuites de la Providence à Amiens.
On to Mr. Macron's
policies
.
1. Religion.
He
opposes
True Christianity™ and its special place in the heart of
Jesus
.
Quote:
"No religion is a problem in France today," he said at a rally in October. "If the state should be neutral, which is at the heart of secularism, we have a duty to let everybody practice their religion with dignity."
For everyone it is obvious, that
Catholicism
and its spin-off, the
Islam
, are yuuuuge problems and cause 100% of all terrorism in the world including Catholic (Basque) and Muslim attacks.
Galatians 2:4 - And that because of false brethren unawares brought in, who came in privily to spy out our liberty which we have in Christ Jesus, that they might bring us into bondage:
2. Bible study.
Macron
opposes
simple pleasures of reading the
KJV Bible
and instead goes for
liberal entertainment
. This will force the youths to see more and more shows about
fornication
and
sodomy
and take them as normal.
Quote:
Mr Macron has pledged to give each 18-year-old a £424 (£500) "culture pass" to spend on cinema visits, theatres and concert tickets.
Ephesians 5:11 - And have no fellowship with the unfruitful works of darkness, but rather reprove [them].
3. Genesis 1:28.
Epic failure
by Mr. Macron.
Quote:
The plan also earmarks investment to meet environmental energy targets in a bid to move from coal-based energy production to alternative renewable energy sources.
We would certainly support alternative facts™ based on the
Bible
but for the average liberal, these "alternative energy sources" mean Solar Power (which
is
coal
, ultimately), windmills, and Buddhist meditation - not Nuclear Power that would also produce the beneficial sideshow of atom bombs.
Jesus
wants us to use coal:
Leviticus 16:12 - And he shall take a censer full of burning coals of fire from off the altar before the LORD, and his hands full of sweet incense beaten small, and bring it within the vail:
Now, on to the
most alarming
issues of this man,
Emmanuel Macron
. I am not going to assess his first name that is derived from the 1974 soft core fornication manual "
Emmanuelle
", as everyone is already familiar with that debacle. Instead, let us look at the last name "Macron". I assumed that it would be a shortening of the Italian word "
Macaroni
" but as it turns out, the name derives from Grease. The original word is
μακρόν
meaning "long". It is a diacritical mark, a straight bar (¯) placed above a letter, usually a vowel. It is used by the Godless tongues of
Latin
, the vernacular of the bestiality-crazed New Zealanders (
Māori
) and by the Japanese (
Rōmaji
). I don't understand why anyone would have a Greek-New Zealander - Japanese name as the last name
unless it was associated to the sodomy
of ancient Grease. Is it? Let us see. It is supposed to be a straight bar (¯) but is it in fact not straight at all but gay?
Creation Science
has the answer and this time I urge that
no-one
looks at the image below, at least not the Ladies, as it reveals the ultimate outcome of the French election: The Sodomistic Agenda.
.
.
.
.
.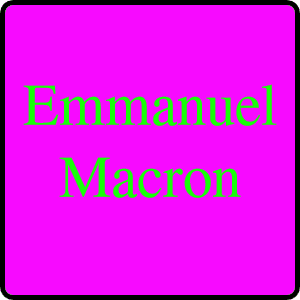 Let us just
Pray
that
President Trump
will soon wage
war
against this nation. It is not just our Battle, it is God's Battle.
2 Chronicles 20:15
And he said, Hearken ye, all Judah, and ye inhabitants of Jerusalem, and thou king Jehoshaphat, Thus saith the LORD unto you, Be not afraid nor dismayed by reason of this great multitude; for the battle [is] not yours, but God's.
Yours in Christ,
Elmer