We all know and cherish the many ways that God tortured all of the Egyptians for the fact that the Egyptian elites held Israelites captive. One of them was the plague of frogs creeping up and making daily life miserable, and conducting daily tasks practically impossible:
Exodus 2:1-8
1 And the Lord spake unto Moses, Go unto Pharaoh, and say unto him, Thus saith the Lord, Let my people go, that they may serve me.
2 And if thou refuse to let them go, behold, I will smite all thy borders with frogs:
3 And the river shall bring forth frogs abundantly, which shall go up and come into thine house, and into thy bedchamber, and upon thy bed, and into the house of thy servants, and upon thy people, and into thine ovens, and into thy kneadingtroughs:
4 And the frogs shall come up both on thee, and upon thy people, and upon all thy servants.
5 And the Lord spake unto Moses, Say unto Aaron, Stretch forth thine hand with thy rod over the streams, over the rivers, and over the ponds, and cause frogs to come up upon the land of Egypt.
6 And Aaron stretched out his hand over the waters of Egypt; and the frogs came up, and covered the land of Egypt.
Well, we are seeing a smaller scale version of this Biblical plague happening right now in the state of Florida:
Quote:
One of the strongest winter storms on the East Coast in modern history has pummeled cities with snow and sleet, forcing schools and businesses to close while grounding thousands of flights.
And in South Florida, it is "raining iguanas."
Green iguanas, like most reptiles, are coldblooded animals, so they become immobile when the temperature falls to a certain level, saidKristen Sommers of the Florida Fish and Wildlife Conservation Commission. Under 50 degrees Fahrenheit, they become sluggish. Under 40 degrees, their blood stops moving as much, Sommers said.
They like to sit in trees,and "it's become cold enough that they fall out."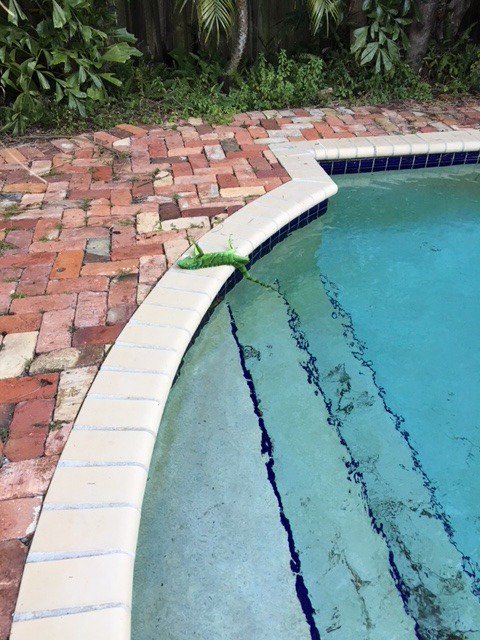 So it's not frogs but iguanas (same thing if you ask me), and they are not making life impossible like the Egyptian plague, but it is unusual and it is a nuisance.
I assume this
downsized plague effect
is due to the increase of population - it has been quite a while since the last drastic reduction of human population (the Flood), which means there are many more people now than in the times of Exodus, so the same number of frogs (or iguanas) causes less inconvenience per person.
Or, it could be that God is simply sending a small-scale warning, and the real plague will be coming if people don't repent and accept Jesus as their Savior.
Alternatively, there might have been some plague-related budget cuts in Heaven, again related to the size of human population - God wants to punish sinners everywhere, and He is stretching His budget to give at least a little punishment to all sinners.
Either way, the explanation why the plague hitting Florida today is smaller than the one described in Exodus is irrelevant. The only correct response to this whole situation is to praise
for His Care for us. If He didn't care about us, He would not be punishing us so much!



Praise the
for His Eternal Love and Thoughtfulness!