Great news!
The gentle diplomatic touch of
President Donald Trump
has won over the failed nation of
North Korea
. I learned recently that yet another manifestation of the homosexual infestation called the
Olympic Games
is at the moment taking place in Godless (non-Baptist but partly Protestant/papist) South Korea. The Olympics are a
useless sporting event
that originated in ancient Grease and consisted of
nude men
feeling and touching each other.
1 Corinthians 1:23
But we preach Christ crucified, unto the Jews a stumblingblock, and unto the Greeks foolishness;
The Pyeongchang Olympics opening ceremony was a rerun of this vile nudity - even at
sub-freezing temperatures
the swarming sodomites could not resist showing off their well-developed, admittedly alluring but ultimately
disastrous
physique. This is the Tongan representative, a master cross-country skier
Pita Taufatofua
(an anagram of "
up a fat Fiat auto"
which is a clear Papist reference) with his bare, muscular torso glistening with a generous amount of
oil
(Exodus 25:6), celebrating the
gay agenda
.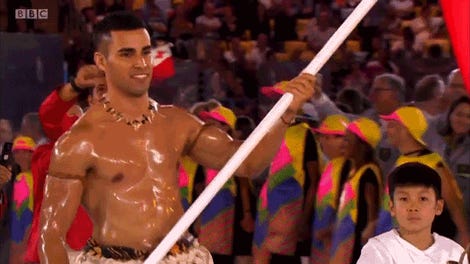 Enough of these
disgusting
pictures. As I was doing an image search looking for more examples of this
bare-chested monstrosity
(there are hundreds and thousands of images of him), I also noticed that unbeknownst to the general public, our
own
President of the
United Sates of America
Mr.
Donald Trump
also visited these "gamers". It was unannounced and only the Google image search revealed that He'd been there meeting with the North-Korean leader
Kim Jong Un
.
Here they are
mingling with the crowd
, taking in the feelings and worries of the general public, discussing how to make life
better
for us
Christians
and how to make vile
sinners
suffer
.
This image shows these two world leaders
fisting
their iron knuckles in celebration of newly-found understanding. This is
glorious news
. An uninteresting sporting event, only worth watching to see how
low
the figure skating men have descended in their loss of masculinity, is suddenly the focus of
friendship in Jesus Christ
! Here we have these two
great men
who have shown how they
despise the natural world
and its inhabitants, just as
Jesus
told us to do!
James 4:4
Ye adulterers and adulteresses, know ye not that the friendship of the world is enmity with God? whosoever therefore will be a friend of the world is the enemy of God.
We can expect
great things
from them during the next couple of weeks. I would not be surprised if they met with the Tongan Mr.
Pita Taufatofua
(why the
tofu
?
) and chastised him. That is why I urge all
True Christian™
men to follow the antics and
garde-robe
of Mr. Taufatofua
very
closely.
Yours in Christ,
Elmer