2018 –
[death of] Thomas Bopp, American astronomer best known as the co-discoverer of comet Hale–Bopp (b. 1949)
Burns in hell for his FAKE ASTRONOMY, which convinces the Heaven's Gate church to kill 39 people.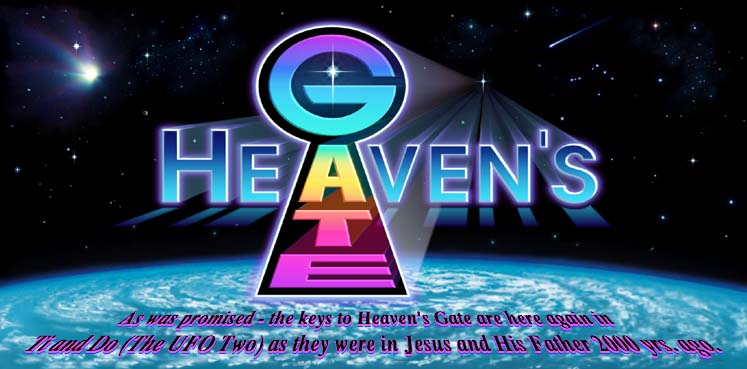 If my church used graphics this lame, I'd commit suicide too.
2014
– A launch of the communication satellite GSAT-14 aboard the GSLV MK.II D5 marks the first successful flight of an Indian cryogenic engine.
I think that's technobabble for "they chucked an icecube into orbit."
2005
– Eris, the most massive and second-largest known dwarf planet in the Solar System, is discovered by the team of Michael E. Brown, Chad Trujillo, and David L. Rabinowitz using images originally taken on October 21, 2003, at the Palomar Observatory.
There's planets full of Dwarves? Scientists need to put down Lord Of The Rings and pick up the Bible.
1976
– The Troubles: Gunmen shoot dead ten Protestant civilians after stopping their
minibus
at Kingsmill in County Armagh, Northern Ireland, UK, allegedly as retaliation for a string of attacks on Catholic civilians in the area by Loyalists, particularly the killing of six Catholics the night before.
Interesting math: 10 shortbus retards are equal to 6 Catholics.
1975
– The Tasman Bridge in Tasmania, Australia, is struck by the bulk ore carrier Lake Illawarra, killing twelve people.
"We should tear down walls and build bridges" say Democrats. No! BRIDGES KILL!
1968
– Alexander Dubček comes to power; "Prague Spring" begins in Czechoslovakia.
Proof that climate change is a lie: back in the sixties, spring happened in January!
1950
– In the Sverdlovsk air disaster, all 19 of those on board were killed, including almost the entire national ice hockey team (VVS Moscow) of the Soviet Air Force – 11 players, as well as a team doctor and a masseur.
Masseur? Yeah, right. Obviously God's punishment for some mile-high shenanigans.
1919
– The German Workers' Party, which would become the
Nazi Party, is founded.
1925
– Nellie Tayloe Ross of Wyoming becomes the
first female governor
in the United States.
COINCIDENCE?!?!?!?!
1914
– The Ford Motor Company announces an eight-hour workday and minimum daily wage of $5 in salary plus bonuses[1] subject to restrictions and imposed "character standards."[2]
What a bunch of spoiled, lazy workers. No wonder American cars have gone downhill and now everybody drives rice-burners and weinermobiles.
1757
– Louis XV of France survives an assassination attempt by Robert-François Damiens, the last person to be executed in France by drawing and quartering, the traditional and gruesome form of capital punishment used for regicides.
And guess what happened next: SPOILER ALERT: lots of regicide! Stupid crime-coddlers got what they deserved!
1675
– Battle of Colmar: The French army beats Brandenburg.
The French winning a battle? FAKE HISTORY!
1554
– A great fire occurs in Eindhoven, Netherlands.
Probably started by pot-smoking.
1527
– Felix Manz, a leader of the Anabaptist congregation in Zürich, Switzerland, is executed by drowning.
A million aquaphobic cats are named in his honor.
1066
– Edward the Confessor dies childless, sparking a succession crisis that will eventually lead to the Norman conquest of England.
What did he confess to? Shooting blanks? Having an overcooked noodle? God would have cured your stones if you had confessed harder, sinner.