All science is based on the
KJV Bible
, a few axioms and previous findings. Regarding
our
Creation, these are as follows:
The Earth is flat (e.g., Isaiah 11:12)
Jesus will soon dismantle this Earth (Revelation 21:1).
He will Create a New Earth (Isaiah 65:17, 2 Peter3:13).
Now, new data have emerged. Many flat Earth theorists believe that our current flat Earth is not the
first
one, and they have presented the Creation Science Community with new innovative designs of possible previous,
pre-Biblical Creations
. These new theories explain many enigmatic passages of the Bible and spread light to the fate of this
sodomy
-ridden world. In addition, we can now unravel where the
Nazis
fled after WWII, we can discover new lands for Bible-believing heterosexual Caucasian male True Christian™ men and prove the flat nature of this Earth once and for all.
Many flat Earth theorists now believe that
beyond the Ice Wall
(called Antarctica by atheists) there could be
another
rim of habitable continents and seas. The ice wall can be traversed only in summer through the "
Summer Gate
", a passage for ships when the Ice Wall partly melts in the summer months. This has been proven by the many ships that have disappeared in that region and by the fact that even the Google maps show this region as a
black void
. Here we can see the black region that the government tries to hide from us.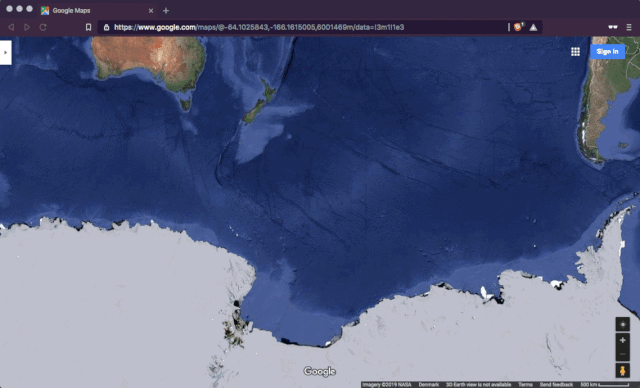 What lies beyond? Many flat Earth theorists now believe that a totally new region of vast continents with lush pastures, tropical seas, oil fields and mineral deposits is hidden to be subdued (Genesis 1:28) and exploited by Real
Conservative
Christian
Americans
. This is most plausible, as we now even have the names for these new lands!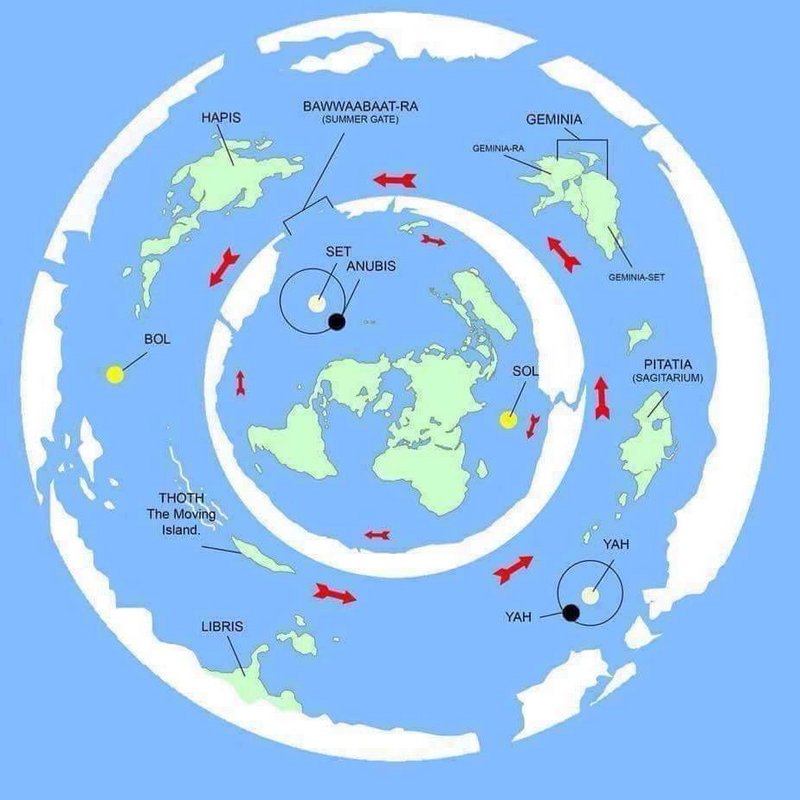 As we can see, this new flatland has its own Sun called
Bol
and many exciting continental masses, such as Hapis, Libris (I presume it does not mean that it would be infested by liberals) and Geminia. Furthermore, the ultimate proof of the veracity of this design is
Thoth, the moving island
. No secular scientist would come up with such an intricate idea, but the Bible knows of it! Glory to
Jesus
!
Revelation 6:14
And the heaven departed as a scroll when it is rolled together; and every mountain and island were moved out of their places.
Islands CAN thus move, and
Jesus testifies
about that. Now we can quite confidently start to examine this new rousing world in detail. As we can see, there is
another
Ice Wall surrounding this world, and presumably it either has its own semi-toroidal Firmament (Genesis 1:6) or a large
hemispherical
Firmament that also contains
our
own
smaller
Firmament. Simple and elegant.
Occam's razor
proves this as the simplest explanation! We'll have to find out. Does it
end
there? Apparently, it doesn't! Yet another new world can be found beyond this
new
Ice Wall!
A THIRD world. We know of the third world but this the
real
third world. Now. please look closely at the center of this image. It shows the future! A
new Sun is emerging
from the so-called "North pole" and it will be the New Earth's Sun (
Jesus
) cited in the Bible (Revelation 21:1). The atheist science has it
all
wrong! As the new Earth emerges, giganormous
earthquakes
and
volcanic
erections ensue, as our Earth moves to the edge of the New Earth, a
new
Ice Wall is Created and WE become the rim around
Jesus's
Newest Creation! At the moment, these outer edges of this maze of Creations are still somewhat speculative, and another plausible model shows many vanished continents, such as
Lemuria
and Atlantis, and the abyssal seas described in the first glorious paragraphs of the KJV Bible (Genesis 1:2). You can see these waters as the "Abyssal Ocean". This is great science!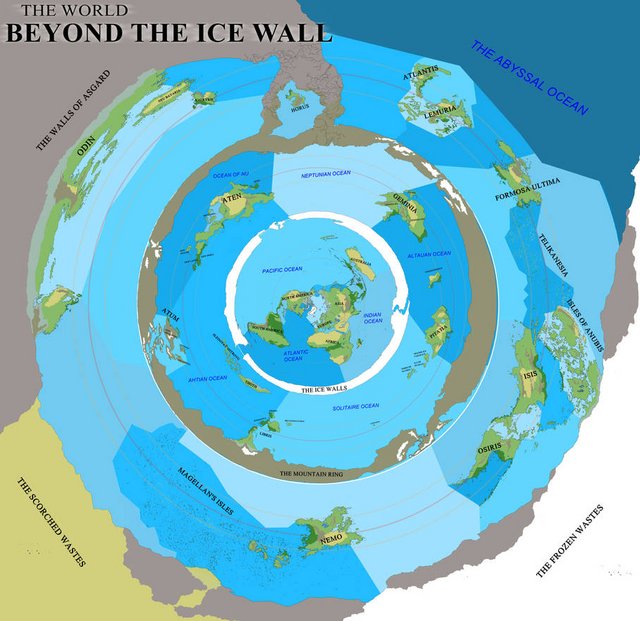 For the uneducated secular PhD, this is still probably not enough, as they by
default
try to dismiss
Biblical
evidence. For them, we have gathered other irrefutable pieces of information that prove the above model beyond any reasonable doubt.
The mainstream scientists deny this. But they also deny the Bible. As we know that the Bible is True™, the model above is also True™.
The United Nations knows about this and flaunts it on their emblem!
Adolf Hitler, a brilliant but twisted mind, knew about it and probably fled there via South America in the summer of '45.
Soon
it is going to be summer. An
expedition
must be launched to enter the Summer Gate and the vast lands beyond.
Who
dwells there? Probably some Godless Sodomistic British sailors from the 19th century and the
Nazis
. We
can
defeat them and claim these lands for Trump the Golden. Soon the new Sun will also emerge and Jesus shall be that Sun (Revelation 22:5). As the previous Sun was called Bol and ours is Sol the next one could be
Jol
if we follow the alphabetic sequence. Or Yol. It will probably circle the disk in the opposite direction to Sol and similar to Bol. Bol has to cover more distance within every 24-hour sequence so good sunscreens may be needed. I would not mind settling on Thoth the
moving Island
. Or Atlantis. Obviously, all this in expectation of
Jesus's
Return and my teleportation into
Heaven
(1 Thessalonians 4:17).
Yours in Christ,
Elmer