Some self-claimed Christians have been
abandoning
Mr. Donald Trump
due to the false allegations of
fornicatory harassment
by him. The Donald has now revealed that these allegations are caused by a
Global Conspiracy
.
We
can ignore them but how come prominent so-called Christian men could have been
seduced
by these lies? It is because they
really
are
false Christians
. It is because they do not know the
Bible
by heart. Only by examining the Bible do we find the ultimate cause of this unfortunate incident of wanton gossip.
Jealousy.
Isaiah
tells us that
Mr. Trump
has been sent to convert this sorry Earth back to
True Christian™ Faith
. Let us examine the following verses in detail.
Isaiah 42:11-14
Let the wilderness and the cities thereof lift up [their voice], the villages [that] Kedar doth inhabit: let the inhabitants of the rock sing, let them shout from the top of the mountains. Let them give glory unto the LORD, and declare his praise in the islands. The LORD shall go forth as a mighty man, he shall stir up jealousy like a man of war: he shall cry, yea, roar; he shall prevail against his enemies. I have long time holden my peace; I have been still, [and] refrained myself: [now] will I cry like a travailing woman; I will destroy and devour at once.
Verily, people
everywhere
are
lifting there voices
in defense of Mr. Trump!
Verily, the
Lord
has decided to
send forth this Great Man
to defend
His
interests on Earth while it still lasts.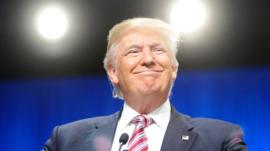 Verily, he
roars in all pitches
from the mid-ranger tenor voice to the highest soprano.
That is all
old news
. We
knew
that. What comes
next
is
surprising
. By a more detailed analysis, we can see that
Isaiah also knew
all this but He knew something else, too!
Isaiah 42.13
The LORD shall go forth as a mighty man, he shall stir up jealousy like a man of war: he shall cry, yea, roar; he shall prevail against his enemies.
Now
everything
is clear. The reason why
Mrs. Clinton
is so eager to attack The Donald based on some basic everyday man talk, is
jealousy!
She is
jealous
of the Donald. We can presume that she was
never
the target of the advances for Godly Matrimony by Mr. Trump. Mr. Trump must thus have wooed almost every other female human except Mrs. Clinton.
Why?
Why did she
not
receive the attention she so
desperately
wanted to have from Mr. Trump. Here we are told the criteria that Mr. Trump uses when he chooses the women he considers to be suitable mates.
Quote:
"She would not be my first choice ... That would not be my first choice."
Quote:
Trump also appeared to insult the appearance of his Democratic rival, Hillary Clinton, telling the audience that when she walked in front of him during the last presidential debate, "believe me, I wasn't impressed."
Mrs. Clinton is simply too
ugly and unimpressive
. Mr. Trumps knows this. You know this. I really don't care about this as my wife is past menopause and I will never ever again have to lay my private parts on her. And Mrs. Clinton must also know this.
Jealousy.
This
susceptibility
to being a fatso has been documented for Mrs. Clinton also previously.
What are the result of this
jealousy
that was foreseen by the Prophet?
Genesis 3:16
Unto the woman he said, I will greatly multiply thy sorrow and thy conception; in sorrow thou shalt bring forth children; and thy desire shall be to thy husband, and he shall rule over thee.
The desire
should
have been targeted at
Mr. Clinton
, but
jealousy
must have caused a divergence of this
natural
(but exhausting, as I can personally testify) lust to a married man, Mr. Trump.
Ecclesiastes 7:26
And I find more bitter than death the woman, whose heart is snares and nets, and her hands as bands: whoso pleaseth God shall escape from her; but the sinner shall be taken by her.
It has caused
bitterness
, as we can readily see.
This would at first glance also offer us an
escape
from this debacle. Mr. Trump could just offer Mrs. Clinton some
compliments
that her heart so desperately desires, she would
abandon
the ticket and all this unnecessary campaigning could be replaced by the
True™ Presidency
. But, sadly, we must ponder if this is likely to happen.
It
cannot
happen, as
The Donald
is
a man of God
and he follows the
Word of God
meticulously.
Deuteronomy 21:10-12
When thou goest forth to war against thine enemies, and the LORD thy God hath delivered them into thine hands, and thou hast taken them captive, And seest among the captives a beautiful woman, and hast a desire unto her, that thou wouldest have her to thy wife; Then thou shalt bring her home to thine house; and she shall shave her head, and pare her nails;
Alas, it has to be a
beautiful
woman. The Donald has his Biblical principles. They take precedence over the
jealousy
of a desperate woman. I'm afraid that we'll have to see through this election to yield the
Ultimate Victory
. Meanwhile, we are
comforted
by the Wise Words of the Prophet:

Isaiah 42:21
The LORD is well pleased for his righteousness' sake; he will magnify the law, and make it honourable.
Jesus
will magnify the Law and
The Donald
will be the Lathe of Heaven to realize all this.
Yours in Christ,
Elmer