GLORY! Three years ago, the Lord struck Injunesia and other gook nations with His wrath, and they's continued to spit in His face evah since. Now the Lord's hittin' 'em again fo' they Godless ways. This come just one day after the 6 year anniversary of the day THEY attacked US. Seem like Jesus haves decided to show them that He be able commit
acts of terror
too!

Quote:
Originally Posted by Godly Fox News
Strong Earthquake Spawns Small Tsunami in Indonesia

JAKARTA, Indonesia — A massive earthquake shook Indonesia on Wednesday, killing 10 people, injuring 100 and triggering a small tsunami that hit one city on the island of Sumatra, authorities said. Tsunami warnings were issued for much of the Indian Ocean region.
Thank You, Lord, fo' bringin' justice to them folks that hates America and Godly capitalism, and fo' showin' 'em thatchoo will not be mocked! (
Galatians 6:7
)
AMEN.
---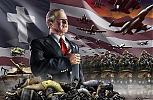 "He went on CNN and he laughed at us, and he said, 'They'll never get me because Allah will protect me. Allah will protect me.' Well, you know what? I knew that my God was bigger than his. I knew that my God was a real God and his was an idol." - Lt. General William G. Boykin