Brethren! Some more
exquisitely
crafted
True Christian™ art has been
found! Unfortunately, this is by an
anonymous
artist (such
humility
!) in an unknown church but based on the assessment below it
must
be a
True Christian™
one!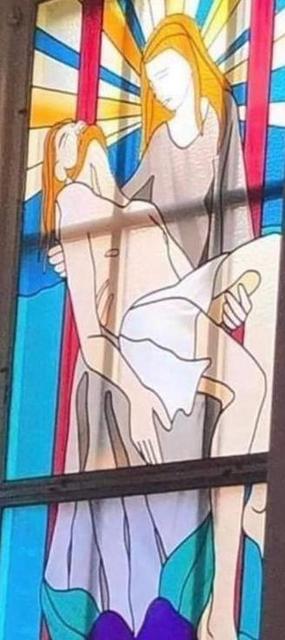 Of course, it is the
favorite
subject of all
decent
believers! Christ's Redemption over OUR sins! Here he is being
gently lowered
from his temporary suffering on the cross by his mother, Mary the Harlot who engaged in premarital sex with her OWN SON (Matthew 1:18)!

But let us
assess
this piece of art.
1. Craftsmanship and general quality
Excellent
skills in glass painting. Life(or death)like
colors
. The line of
Jesus's neck
is especially
pleading
showing His mercy towards those who accept him and His
Wrath
towards those who reject Him (Exodus 34:7).
2. Compatibility with the Bible
Well, Mary
was
at the Cross. This is historical
fact
depicted in this
illuminated
masterwork!
John 19:25
Now there stood by the cross of Jesus his mother, and his mother's sister, Mary the wife of Cleophas, and Mary Magdalene.
3. Usefulness in a True Christian™ message
Very
useful.
Jesus
died for OUR sins. It must have been
quite
unpleasant. Those who don't realize
this
are subjected to His Wrath! Ha (Ephesians 5:6)!
4. Potential risks of the image
As the whereabouts of this nice piece of high-quality art remain
obscure
, it is possible that visiting the original artwork could cause perilous
ramifications
if there were any cultists temples (such as Catholic, Hindoo, Mormon or Scientologic) in the vicinity. Only visit this place with a
senior True Christian™ man
of good standing.
Yours in Christ,
Elmer