Greetings Landover Baptist Church members.
I've recently noticed something that few people noticed: no one watches anymore the
Power Rangers
since their debut. This means that God intervention is here once again to stop the heathen pop culture. Allelujah! Now i'll explain better the argument.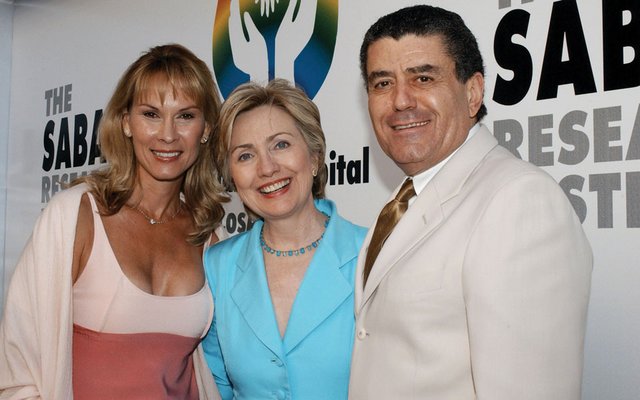 First, let me introduce Haim Saban. This Jewish billionaire was born in the heathen Egypt and he is known as the creator of the
Power Rangers
. The photo can already tell you the political ideology of the show: Clinton's propaganda. In fact, Mr. Saban admitted more than once that he sent more money to the Clinton Foundation than George Soros. I guess that all of these money came from the show and the toys it produced.
Now, let's move to the show itself. Altough there are many series with many satanic themes (such as astronauts, pyramids, ninjas, samurais, enviromentalism, wicca, time travel, ecc.) we'll focus only on the one series that actually had ratings:
Mighty Morphin Power Rangers
. As the title suggests, it promotes drug to children.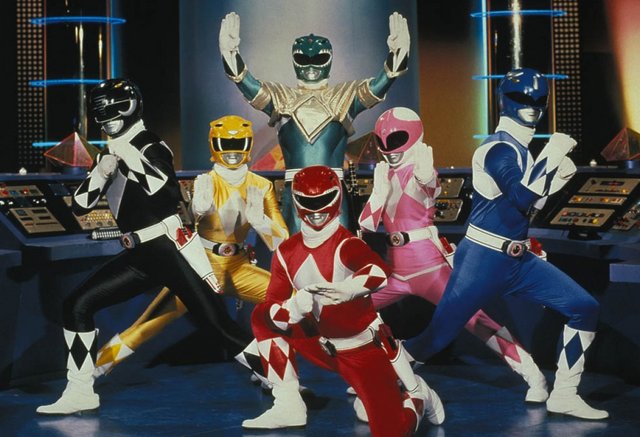 The story is basically this: a wicked witch (no, its not Hillary or Merkel) from space and her monsters are released from a magic trash can and decide to destroy the Earth. A fliying head stuck in a tube asks, with a hip-hopping robot as an assistant, recruits a group of teenagers (why does he need underage people?

) to combat the witch's minions with spandex outfits, martial arts, plastic weapons, and
Transformers-
like robots. Of course, all of this is pure propaganda in order to brainwash your kids and make them become violent martial artists that costantly buy cheap plastic.
Now, the rangers, as i examined them, are:
Red Ranger: A martial artist that is somehow the leader of the group and his purpose is to turn your girls into whores.
Black Ranger: An hip-hop and rap loving Ham descendant.
Yellow Ranger: A chinese feminazi that transforms into a male when she wears spandex.
Blue Ranger: A nerdy guy whose actor is a proud sodomite.
Pink Ranger: A whorish young lady that serves no purpose other than the damsel in distress.
Green Ranger: A sixth member that costantly stays and leaves, yet he is somehow considered the "coolest".
Other characters includes the already mentioned bald head in a tube that has a robot as an assistant and a cheap rip-off of Stanlio and Olio that are supposed to be the "comical relief" yet they are not comical at all. The villain is the witch that lives in a palace in the Moon and with her staff makes her monsters grow and is helped by a monkey in gold, a blue ogre and a tall vampire (probably both gays) and a furry that creates monsters from dirt (is this a mockery to the Creation of Man?) At some point in the series, a slutty lady that transforms into a scorpion comes to aid the witch.
The series follow the same pattern in every single episode, so don't bother watching any of them:
The Rangers are doing something (of course it's never such as going to Church or pray of our Lord and Saviour)
The two comic reliefs comes out and get humiliated
The witch plans something that of course will never have success and she decides to sent her Krabby Patties or wathever they're called.
The Rangers fight the foot soldiers with their martial arts.
Then the go visit the head-in-a-tube to get a mission.
The witch sends a new monster (aka someone in a cheap Halloween costume) to cause trouble
The Rangers transforms, defeats the monster, but the witch enlarges it.
The Rangers calls their robotic dinosaurs (that somehow includes a cat and an elephant, but this is atheist mythology so i don't ask) and combines them into something bigger.
After 30 seconds of fighting the monster explodes, the witch gets an headache and the Rangers returns to their activites.
Of course, in order to fool people into thinking that the series is not repetitive, Mr. Saban chose to change the plot in every episode, while adding some "morals" (not Christian ones) at the end. Thankfully, God made people realize in later years that the
Power Rangers
were not worthy, and the ratings went down to the bottom. Saban sold the
Power Rangers
to Disney, hoping they would make it popular again, but thankfully they never cared. So he bought it back, only to lower even more the ratings, to the point that he was forced to sell them to the ungodly Hasbro (the toy company that sells kids
Trans-formers
and
My Little Pony
) and shut down his own company.
But it does not ends there. Mr. Saban was able to fool people into thinking that all the materials and other suffs were made by him. This untill Internet was introduced and everyone discovered that he shameless plagiarized japanese TV Shows in order to make all the money that he donated the Clintons. Shame on you Mr. Saban, have you forgotten that "You must not steal?"

.
Anyway, the name of the series is called
Super Hentai
(Of course is made in a land of perverts) and is barely different from Saban's version. However, thanks to Wikedpedia, we can know more about the season that was plagiarized. As i've read on the page, the Rangers here are warriors that lived in a civilization in the age of dinosaurs (aka Evilutionist nonsense) that worship their robotic dinosaurs as Gods (wait, i though the japanese were to busy worshipping their emperor) and with their help they fight an evil witch that sold her soul to Satan.

This is pure blasphemy! It should be the Christ-worshipping clergy, that was chosen by him to fight heatens, being protagonists, not some robot-worshipping warriors that came from an age that never happened. The series has a sister series named
Masked Rider
, but i refuse to even look at what other abominations it promotes.
Thankfully, God is not merciful with the sinners from both franchises, as he keeps sending them in
Hell
were no spandex outfits or robots will save them. However, Mr. Saban, if you are reading this it might be that the Lord wants to give you a chance of getting saved. All you have to do is repenting from killing Christ, stealing other people's works, selling cheap plastic to the kids and being a Clinton's supporter. I suggest you to start by sending all your money to the IOR Bank and start your journey of repentance.
Buona serata, Padre Rovagnati.