Kidz Ask Johnny:
Quote:
dear mr johnny,
Our momma says that jesus loves us, and will take us with him to THE Heaven when we die. But if we dont make Jesus happy we'll be in the Naughty kids korner forever. Do we get any toys there? do we really stay forever?
Love, Billy and Susie from ohio
Billy and Susie, I love taking the time out of my day here at Johnny's Autoplex to guide you on the Lord's favorite path. First things first: there is no "naughty kids korner", there is only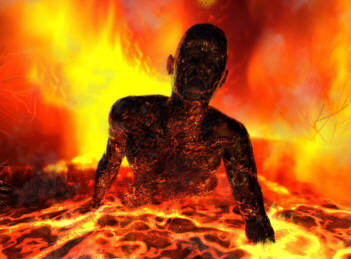 ETERNAL HELLFIRE!

We like to just call it 'Hell'. Now, assuming that you kids aren't just the same person, (Otherwise you go to Hell:
Deuteronomy 22:5
The woman shall not wear that which pertaineth unto a man, neither shall a man put on a woman's garment: for all that do so are abomination unto the LORD thy God.) Jesus warns us of an extra-special place for people who don't accept him as their (over)Lord and Savior.
If you notice your parents lashing your backs in the next few days, it's only because Jesus cares.
Quote:
Proverbs 23:13-14
Withhold not correction from the child: for if thou beatest him with the rod, he shall not die.
Thou shalt beat him with the rod, and shalt deliver his soul from hell.
Jesus told your parents to whip you if it means saving you from Hell, that's why you have to listen to Mr. Johnny extra carefully when he gives you these proven tips on how to not go there. To start off, Jesus wants you to be ready to cut off your eye or hand if it causes you to sin:
Quote:
Matthew 5:29-30
And if thy right eye offend thee, pluck it out, and cast it from thee: for it is profitable for thee that one of thy members should perish, and not that thy whole body should be cast into hell.
And if thy right hand offend thee, cut it off, and cast it from thee: for it is profitable for thee that one of thy members should perish, and not that thy whole body should be cast into hell.
If you don't, Jesus will laugh as you suffer:
Quote:
Proverbs 1:26
I also will laugh at your calamity; I will mock when your fear cometh
You must also accept that most of your fellow friends and grownups will go to Hell:
Quote:
Matthew 7:13-14 "Enter ye in at the strait gate: for wide is the gate, and broad is the way, that leadeth to destruction, and many there be which go in thereat: Because strait is the gate, and narrow is the way, which leadeth unto life, and few there be that find it."
Hell is not a fun place to be, children. A simple kiddie-approved diagram:
Jesus does not want you to think too much either, otherwise you'll make him angry:
Quote:
Matthew 6:25 "Therefore I say unto you, Take no thought for your life, what ye shall eat, or what ye shall drink; nor yet for your body, what ye shall put on. Is not the life more than meat, and the body than raiment?"
Make sure to Tithe as well when you grow up--perhaps your allowance for doing chores, otherwise you'll also end up in Hell.
There is much more to tell you, but I have to go for now--I have customers waiting for me to sell them a new Hummer.
If you feel that there is more to know, please message your local friendly Pastor Ezekiel: he has a big list of who Christ will damn come the Glory.
And remember: JESUS LOVES YOU!
Until Next Time, Johnathan.